Order Management Systems: Everything You Need to Know
Efficiently managing the supply chain involves various critical activities such as ordering, logistics, and inventory management. Logistics, including transportation by air, sea, and land, presents challenges in coordination. Businesses face hurdles in aligning orders with inventory, shipping schedules, tracking shipments, generating reports, analysing data, and evaluating performance. The entire supply chain's success relies on precise timing and location for ordering and delivering the right products. To address these challenges, a comprehensive Order Management System (OMS) is essential. In this blog, we will explore the definition, key features, benefits, top software options, and factors to consider when choosing an OMS.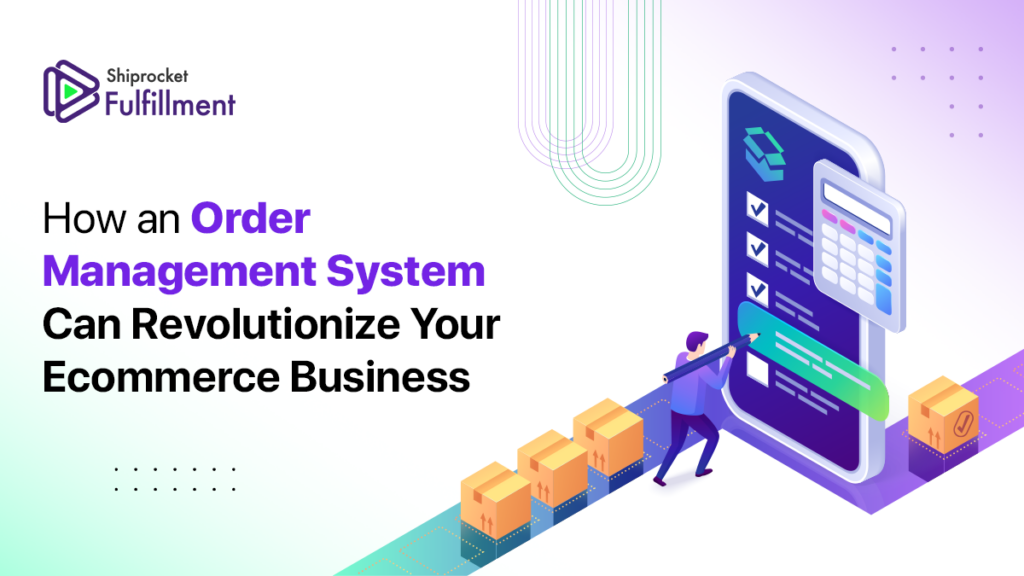 What Is an Order Management System?
An order management system (OMS) is a software system that provides visibility and transparency by automating the entire process of managing orders. The order management system encompasses product information, inventory information, vendor management, purchasing, marketing, customer service, order entry, financing activities like invoicing and payments, and shipping of goods.
An OMS helps to automate purchasing and fulfillment processes. There are various types of OMS available in the market that enable the complete integration of distribution centers, stores, 3PLs, eCommerce platforms, enterprise resource planning systems (ERP), warehouse management systems (WMS), point of sale systems (POS), marketplaces, and many more. An OMS is a platform that tracks sales, orders, inventory, and fulfillment. It enables businesses to automate manual processes, reduce errors, save time, and improve outputs.
Key Features and Capabilities of An Order Management System
Let us explore the key features and capabilities of an order management system.
Capability to Handle Reverse Logistics
Handling reverse logistics is an important feature. If a customer rejects the goods, the company should provide a facility to return them. This is essential to ensure that customers do not lose trust in the company. Many times, customers are lost due to a lack of proper reverse logistics processes in place.
With an order management system, your business can provide an easy return experience for everyone involved. An OMS can automatically print return labels and provide their return status with online tracking information.
Managing Customer Information
It also acts as a customer relationship management platform (CRM) that helps increase the number of customers. An OMS can provide all information related to a customer, thus enabling businesses to personalise marketing messages and increasing the chances of another sale.
Ability to Integrate Order and Financial Data
It is required to have the order data in one location. But this data must be easily accessible by other software systems to generate analytical reports. With the OMS's ability to integrate with your finance software, one can analyse information based on inventory and sales data. This analysis will provide information on whether the business is making a profit.
The Benefits of a Good OMS
Implementing a reliable Order Management System (OMS) brings numerous advantages. It reduces human error, improves customer experiences, and streamlines logistics. An OMS enables accurate and efficient order fulfillment, automates cross-platform purchase orders, and provides real-time inventory updates. It also offers valuable insights into regional or channel-specific top-selling products. Some more benefits of a good OMS are given below:
Reduction in repetitive work
A reliable Order Management System (OMS) reduces repetitive work by automating processes like cost calculations, customer information storage, and purchase order generation. This automation saves time and minimises errors, preventing unnecessary communication. With an OMS, businesses can streamline operations and focus on more strategic tasks.
The timely delivery of products is critical to both the customer and the seller. With increasing competition between companies, OMS will help to manage faster sorting, picking, packing, labelling, and delivery of goods. Delivering the right product at the promised time to the customer is necessary. With many customers demanding same-day or next-day delivery, getting everything right in the first instance and in a short time is important. Repeat business would depend on fulfilling the delivery date as requested by the customer.
Prevent stockouts and over-stocking
Stockout is a condition when an ordered product is unavailable to the customer. Improper inventory management can lead to a shortage of stock. It can also lead to excess stock being available, which will block the company's money. Stockout conditions lead to dissatisfaction with the customer. There is the possibility of losing customers in such situations. Customers will search for other companies that can provide the required product. An OMS will help manage stocks effectively. The data that is available through OMS can be used to forecast the number of stock warehouses will need, thus preventing overselling, under-ordering, or going overboard with stock replenishment.
Top Order Management System Software Options
There are a number of software products available in the market for Order Management systems. Depending on the business requirements, one can select the one best suited for them.
1. Shopify plus
It is an eCommerce software platform that is used for scaling brands. Trade can be made internationally, and a central dashboard helps track the order. One can also use the Shopify Fulfillment Network, a third-party logistics solution that natively integrates with the Shopify OMS.
2. Orderbot
Orderbot uses a business intelligence (BI) tool to quantify and diagnose problems in the fulfillment process. This ensures proper action can be taken at the right time. It provides a clear view of inventory across all locations and platforms, manages pre-orders and back-orders, and avoids overselling or underselling with real-time inventory updates.
3. Veeqo
The software platform receives order information from various sales channels and consolidates it into one online dashboard. Custom workflows and invoices can be created to streamline order fulfillment. The software provides in-depth information about sales history, showing total sales by channel, product, category, store, and order status.
4. Brightpearl
Brightpearl is an ERP with order management functionalities. Designed for multichannel merchants, various channel information is collated and displayed in one dashboard. It also has a built-in CRM tool that provides basic contact information for customer service teams to handle inquiries.
5. Pulse Commerce
Pulse Commerce enables businesses to optimise the fulfillment logic based on location, margin, or fulfillment time. It provides omnichannel support, greater visibility across all sales channels and fulfillment centers, and pre-built integration with leading solution partners.
Factors To Consider When Selecting An Order Management System
When it comes to selecting an Order Management System (OMS) for your business, it's important to consider the following factors to ensure you make an informed decision:
Clearly Define Objectives and Requirements
Take the time to establish a clear understanding of what you require from an OMS. Hold meetings with stakeholders to gather their input and consider factors such as scalability and future needs. This will provide a solid foundation for selecting an OMS that aligns with your business objectives.
Identify Reputable Order Management Solution Vendors
Conduct thorough research to identify the top order management solution vendors in the market. Once you have shortlisted potential vendors, prepare a comprehensive Request for Proposal (RFP) that clearly outlines your specific requirements. Include information such as order volumes, number of SKUs, existing software, employee training needs, and the desired implementation timeline. By providing this information, you enable vendors to provide tailored solutions that meet your unique business needs.
Evaluate and Compare Options
Carefully study and evaluate the OMS options presented by different vendors. Request a product demo from each vendor to gain hands-on experience with their solution. This will allow you to assess how well each system aligns with your requirements, user-friendliness, and overall functionality. By comparing the available options, you can confidently select the best-fit OMS for your business.
Conclusion
Implementing an efficient order management system (OMS) is essential for businesses seeking streamlined operations and improved customer satisfaction. An OMS can bring numerous benefits to your operations by automating manual processes, reducing repetitive work, and optimising inventory management. To make the best decision for your business, take the time to define your objectives and requirements, engage with stakeholders, consider scalability, and think about future needs. Whether you operate in retail, manufacturing, or any other industry, an OMS can be tailored to meet your specific requirements and integrate seamlessly with your existing systems. Invest in the right OMS solution today and take your business to new heights of efficiency and customer satisfaction.
Frequently Asked Questions(FAQs)
Where is an OMS being used?
OMS adoption is seen in retail, manufacturing, automotive, telecom, food distribution, pharmaceutical, healthcare, and many more industries.
Can OMS work with in-house or third-party applications?
Yes, OMS can work with other applications like accounting systems, WMS systems, eCommerce platforms, shipping services, and more.
Are OMS and CRM the same?
No, OMS is an order management system that tracks orders, while CRM is a customer relationship management tool that handles customer data.