List of Top Logistics Companies in Pune (2023)
Finding the best logistics companies in Pune can be a challenging task. However, compromising on logistics and warehousing solutions for your business can harm your reputation in the market. To help you with this, we have enlisted the top 7 logistics companies in Pune. We will also talk about the latest trends in the logistics sector in this blog.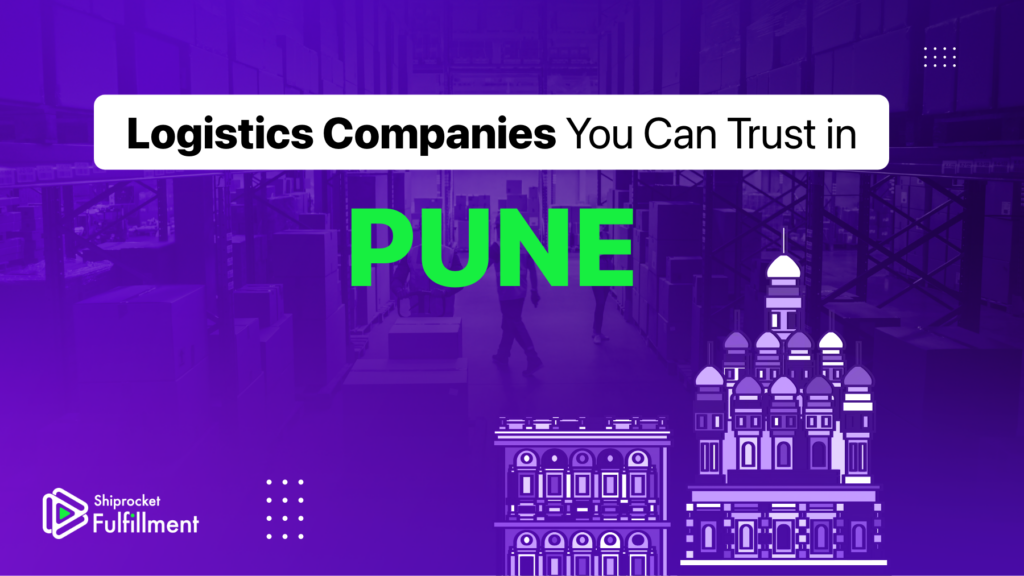 Cheapest Logistics Companies in Pune
1. Hellmann Worldwide Logistics
Established in 1871, Hellmann Worldwide Logistics is a Germany-based logistics company that also offers its solutions in Pune. It is one of the largest international logistics services providers and offers a wide range of services, including air freight, sea freight, road freight, and rail freight. It provides services for different industries, including automotive, consumer goods, fashion, healthcare, industrial, marine & cruise, renewables, perishable logistics, and technology. The company has 263 branches in over 56 countries.
2. Mahindra Logistics
Established in 2007, Mahindra Logistics has headquarters in Mumbai. It is a publicly owned company and a leading third-party logistics solutions provider. It has a strong presence in India and has offices across the country. Mahindra Logistics offers services across diverse industries, including automotive, consumer goods, engineering, eCommerce, warehousing, telecommunication, pharmaceuticals, and commodities. Its services include warehousing, in-factory logistics, transportation, freight forwarding, and other services
3. Broekman Logistics
Established in 1960, Broekman Logistics has headquarters in Rotterdam, the Netherlands. It is a privately owned logistics company with offices in Belgium, India, Poland, China, and the Czech Republic. The company offers global logistics solutions, including road, air, ocean, and rail. It also provides warehousing and door-to-door distribution services.
4. Seashell Logistics
Established in 2007, Seashell Logistics is a Mumbai-based privately owned logistics company. It offers supply chain management, project cargo, chartering voyage, tramp agency, RORO, temperature-controlled cargo, international shipping, customs clearance, and warehousing and distribution services. The company opened its branch in Pune in 2012.
5. RVC Supply Chain Solutions
RVC Supply Chain Solutions was founded in 2017 and is headquartered in Pune. It is a third-party logistics aggregator that offers full truck and part truck load services. The company also has more than 10 warehouses across the country. RVC also provides inbound and outbound logistics and helps manage engineering and raw material stores, packaging of finished goods, warehouse management, and handling dispatches. Their motive is to help their clients focus on their core business while they manage their supply chain.
6. Shiprocket Fulfillment
One of India's most trusted warehousing and logistics companies, Shiprocket Fulfillment, is headquartered in Delhi. The company offers complete end-to-end order fulfillment solutions. It has 45+ state-of-the-art fulfillment centers across all major cities in India, including Pune. You can deliver to more than 24,000 pin codes with 25+ courier partners. With Shiprocket Fulfillment, you can also integrate your sales channels with their platform and process all your orders conveniently from a single platform.
You can store your inventory in their fulfillment center close to your buyers and offer them same-day and next-day delivery. Also, with Shiprocket Fulfillment, you can give your customers a premium customer experience by sending live-order tracking updates on SMS, email, and WhatsApp.
7. Dexters Logistics
Established in 2010, Dexters Logistics is headquartered in Pune. It offers eCommerce logistics, warehousing, transportation, express distribution, and other value-added services. It predominantly offers its services in western and northern India and has grown as a third-party logistics provider. Dexters Logistics has served brands from different industries, including electrons and technology, automotive, eCommerce, apparel and lifestyle, life sciences and healthcare, and SMEs.
8. ARK India
ARK India, a logistics company in Pune, specialises in managing and delivering supply chain solutions. Renowned as one of India's top-rated and dynamic supply chain solution groups, its strength lies in its 30 years of unwavering commitment, cutting-edge IT systems, in-house expertise, and a strong emphasis on exceptional customer service. It comprises 11 lakh square feet of warehouse premises. Their daily dispatches go over 7 lakhs and are valued at over Rs. 120 crores. ARK's extensive presence spans 30 cities, offering several logistics solutions. These include vendor management, supply chain analytics, inventory management, sales order processing, pricing management, and more.
9. ATA Freight
ATA Freight is a prominent logistics company based in Pune. Established in 1996 with a single office in New York, the company has expanded its presence to the United States, Turkey, India, China, Mexico, and Russia. It boasts an in-house research and development unit. Its primary services include sea freight, air freight, road freight, rail freight, and LCL. Furthermore, it also offers Customs Brokerage and Impex.
The company has developed a Freight Management tool called MyWay. The company holds prestigious certifications such as being a certified NVOCC (Non-Vessel Operating Common Carrier), one of the earliest members of C-TPAT (Customs-Trade Partnership Against Terrorism), and membership in esteemed organisations such as IATA (International Air Transport Association) and FIATA (International Federation of Freight Forwarders Associations).
10. Mahindra Logistics
Mahindra Logistics is a logistics company in Pune delivering tailored and comprehensive logistics solutions. Their extensive services encompass transportation and distribution, air chartering, in-factory logistics, warehousing, and in-factory logistics.
It has successfully catered to over 300 renowned companies in over 50 manufacturing locations. Their extensive network covers 21,000 pin codes, spanning 500 operating locations. It traverses an impressive distance of over 100,000 kilometers per month. It also guarantees secure storage and efficient inventory management by managing an extensive warehouse space of over 19 million square feet.

Latest Trends in the Logistics Sector
The logistics industry is constantly evolving, and as a result, new trends are emerging. Let us take a look at the latest trends in logistics that you should be aware of:
Focus on Tech-Based Products
The use of technology has increased in the logistics sector. It has led to improved efficiency and accuracy in the industry. This includes everything-from live order tracking to automated warehouse systems.
Sustainability
As customers are becoming environment-conscious, many businesses are looking for ways to make their logistics operations more sustainable. This involves using eco-friendly packaging and using green transportation methods.
Outsourcing Operations to 3PL
More businesses are outsourcing their logistics operations to third-party providers specialising in this area. This helps them save time and money. Besides, they also get access to expert knowledge and resources.
Increased emphasis on Better Customer Service
In today's competitive market, businesses must focus on providing superior customer service throughout the supply chain. This includes ensuring timely order delivery, live order tracking communication, and a positive customer experience.
Conclusion
It takes a lot to make a business successful. You need to choose the best logistics company in Pune that offers its services at competitive prices. The bottom line, the best logistics company will help you make your supply chain process efficient and, at the same time, help save money on logistics operations.