Top 10 Logistics Companies in Noida
If you are looking for top logistics companies in Noida, you have come to the right place. Noida has become a hub for online consumer-based brands. The city has several top logistics companies to help eCommerce brands deliver their orders on time and increase their sales and profits.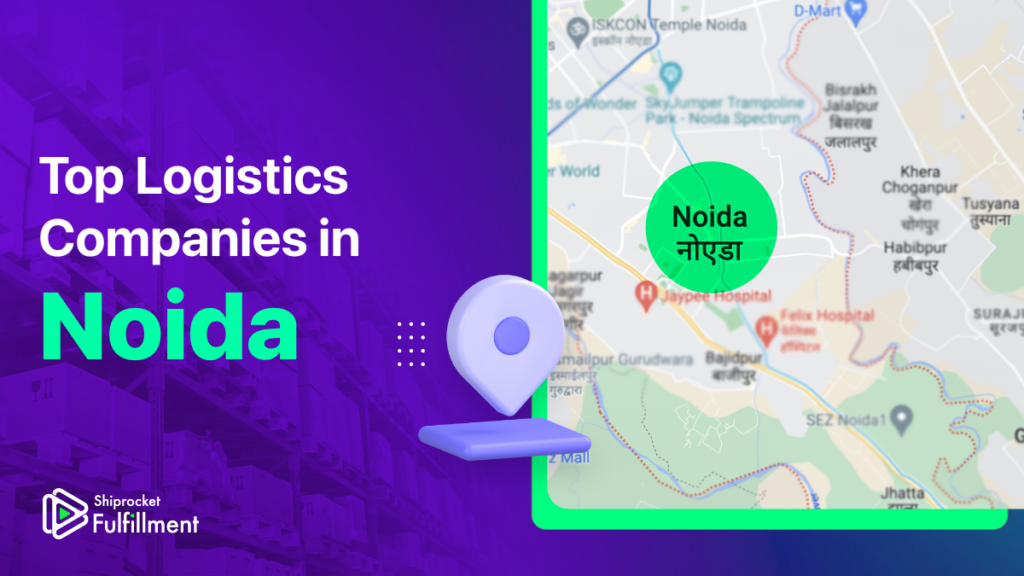 Even though many top logistics companies operate in Noida, you must carefully select the right one for your business. In this blog, we have compiled a list of logistics companies to help you with seamless order delivery.
1. Maersk
Maersk is a supply chain company that aims to cater to a business's supply chain needs from end to end. The company has operations in 130+ countries with 1,00,000+ customers. The primary services offered by the company include transportation services, digital solutions, and supply chain and logistics solutions. Maersk offers ocean transport, inland services, intercontinental rail, and air freight. Its digital offerings include data integration, a logistics hub, and a website guide. Its supply chain solutions include supply chain management, warehousing and distribution, supply chain development, cold chain logistics, and 4PL solutions.
2. Jeena & Company
In 1900, Jeena & Company was established in Mumbai to change the supply chain and logistics sectors with their technology-centric and pragmatic solutions. The company offers top-class international supply chain services with state-of-the-art infrastructure and progressive technology. Jeena & Company has round-the-clock customer support and the best industry experts.
Its logistics services include India's air, sea, and door-to-door freight services. The company also offers 3PL and warehousing services.
3. FarEye
FarEye was established to help businesses turn the delivery experience to their competitive advantage. The company simplifies last-mile logistics and ensures on-time deliveries. FarEye also helps its clients increase brand loyalty by satisfying customers and reducing costs and operational efficiency.
The company mainly serves eCommerce, retail, and courier and logistics industries. FarEye also offers big and bulky order deliveries. The company is operational in five locations – New Delhi, Chicago, Manchester, Singapore, and Dubai.

4. Now (Delivery on Demand)
Now (Delivery on Demand) is a last-mile delivery company established in 2015. The company mainly focuses on local deliveries and is very active in the Delhi-NCR area. It delivers 10,000+ shipments in a day and has partnered with food and pharma companies like Pizza Hut, Burger King, and Apollo pharmacy. The company aims to deliver orders in less than 90 minutes.
The company has delivered 9 million+ deliveries with 1104+ merchants and 1410+ riders. You can book and track orders easily.
5. Parnami Logistics
Parnami Logistics has more than three decades of experience and offers logistics, warehousing, transportation, packaging, inventory management, and live order tracking solutions. The company also offers third-party logistics services. Parnami Logistics servers majorly in Uttar Pradesh, Rajasthan, Uttarakhand, Haryana, and Delhi.
The company has a 150+ owned fleet, 300+ associated fleet, and 10 lakh+ square feet of warehousing space. Its major clients include Amul, Parle, Johnson & Johnson, Amazon, Reliance, Cars24, Delhivery, and Valvoline.
6. Shiprocket Fulfillment
A well-reputed third-party logistics solution, Shiprocket Fulfillment, offers warehousing, inventory management, and shipping services. You can store your inventory in their 45+ tech-enabled fulfillment centers. Their fulfilment centers come with features like Warehouse Management System, logistics tech, and sales channel integration. You can save on shipping costs and offer your customers same-day and next-day order deliveries.
With Shiprocket Fulfillment, you can deliver orders to 24,000+ pin codes domestically and 220+ countries and territories with 25+ courier partners. You can also reduce RTO orders and increase the accuracy of your operation to up to 99.99%.
7. ABC Transport Co. Pvt. Ltd
ABC Transport, a prominent logistics company in Noida, has a reputation for delivering unparalleled service and exceptional efficiency in the transport industry for over 40 years.
Its expertise lies in enabling smooth trade operations through its last-mile door delivery service. It has a strong presence in Nahva Sheva Port and Mundra. It has a well-equipped traffic control room, with features like OPD and GPS monitoring, enabling real-time feedback.
They have driven 450 million km, facilitating the movement of goods worth a staggering Rs. 148,000 crores. With over 20,000 satisfied customers, ABC has successfully transported a remarkable 849,000 kilograms of cargo.
8. Om Logistics Ltd
OM Logistics offers unparalleled solutions catering to diverse geographical requirements. As a comprehensive logistics service provider, the company has pioneered third-party logistics (3PL) by concentrating on inbound cargo for original equipment manufacturers (OEMs). Employing a combination of just-in-time and direct online deliveries, it prominently facilitates efficient handling for surface, sea, express, trains, and air cargo services.
It offers an array of services, encompassing residential and commercial/factory relocation, home shifting, international and domestic air cargo, sea cargo, train cargo, surface transport, packaging solutions, and various other value-added services tailored to meet each customer's unique requirements.
9. RCPL
RCPL, a renowned logistics company in Noida, offers multi-modal logistics solutions. It boasts an extensive network of 55 branches nationwide. Covering over 100 delivery destinations, it possesses an impressive daily handling capacity of more than 230 tons. With the ability to handle an impressive volume of 3 lakh packages per month, it uses its fleet of over 500 vehicles to ensure seamless transportation across the country.
What truly distinguishes RCPL is its vast reach, extending its services to more than 3500 pin codes across India. It primarily offers air cargo, train cargo, warehousing, and packaging solutions.
10. Paradise Logistics
Paradise Logistics, a prominent logistics company in Noida, specialises in global logistics services, catering to various aspects of the supply chain, including freight forwarding, customs brokerage, warehousing, and supply chain management. It has effectively reduced inventory, enhanced order visibility, and streamlined delivery cycles while minimising overall supply chain costs.
With its expertise in freight forwarding, it ensures smooth and efficient movement of goods. Renowned for its top-notch logistics and transportation services, it excels in optimal transport solutions. It also offers exceptional warehouse and distribution services. It boasts well-equipped warehouses that serve as efficient storage facilities for various types and sizes of goods.