Top 10 Logistics Companies In Kolkata For eCommerce SMBs
The city of joy lives up to its name through its amalgamation of food, culture, people, and business acumen. Several eCommerce SMBs are growing in the city, and many logistics companies in Kolkata cater to them.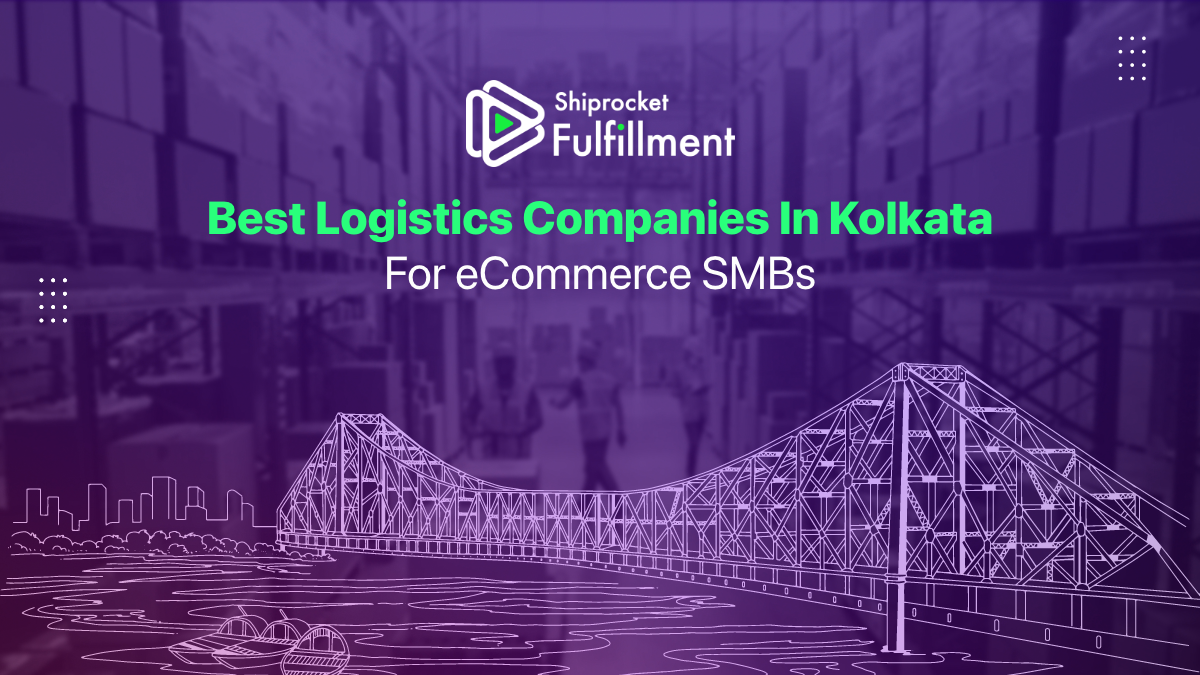 Choosing the right logistics company for your business is vital because it is the backbone of your operations. The company you select should have a proven track record of providing high-quality, safe, and efficient services. It is also essential that the service provider caters to your demand the way you want. There may be a temptation to go with the big names, but your business doesn't necessarily need everything they have to offer.
The Best Logistics Companies in Kolkata
Varuna Group
Founded in 1996, Varuna group has become one of the top logistics companies in Kolkata due to its customer-centricity, operational excellence and transparency with its partners. They cater to eCommerce SMBs and efficiently manage end-to-end logistics while reducing the overall cost. They have a range of transportation services and an emphasis on goods and vehicle safety, which sets them apart from their competitors.
RCPL
RCPL is one of the leaders in multi-modal logistics providing high-quality logistics solutions across India. They have a track record of safely delivering cargo on time for the past two decades. RCPL has 55 branches nationwide and over 100 delivery destinations, with a daily handling capacity of over 230 tons. RCPL is one of the fastest-growing players in the logistics industry. The company offers the most efficient delivery schedule through its air, train, and surface express solutions.

Mahakal Cargo Logistics
Mahakal Cargo is a freight transport company in Kolkata that helps eCommerce SMBs move their loads across India and the globe while eliminating any stress associated with logistics. They provide a fast and efficient delivery service of goods and ensure total safety & security of the products. Mahakal Cargo offers customer-oriented services, which gives MSMEs much-required confidence in shipping their products. Their freight & logistics solutions extend over 15000 delivery locations and over 3000 pick-up points with the express, feeder and service route vehicles.
Trans-Axis Logistics
Trans-Axis Logistics is a company that initiated the traditional concept of eCommerce transporters in Kolkata. They follow a time-bound mechanism to support their B2B eCommerce partners. Their core values are safety, passion, integrity, reliability, innovation, and teamwork. Trans-Axis Logistics provides FTL and PTL services and a dedicated on-demand one-stop transportation system.
Kintetsu World Express
This logistics company was established in 1970 and has its roots in Japan. They opened their first branch in 1997 in Bangalore and set up a new office in Kolkata in 2004. Being one of the top logistics companies in Kolkata, they offer a range of services for eCommerce SMBs. Their expertise lies in air, sea freight and logistics services. They have a highly reliable domestic and international distribution network and state-of-the-art technology to help businesses optimise their logistics.
DHL
DHL Established in 1969, DHL stands as a globally renowned logistics company that also operates in Kolkata. With a presence in over 220 countries, it specialises in delivering services for global events. It also serves its local and international customers with strong logistic services that incorporate sustainability and minimise carbon footprints in its operations while maintaining competitive pricing. DHL seamlessly integrates with their logistics needs as the premier digital partner for businesses in Kolkata.
BlueDart
BlueDart Founded in 1983 with a mission to enhance the environment and communities, BlueDart has become one of India's foremost domestic courier and logistics companies. Under its "living responsibility" framework, it offers three categories of logistics services: GoTeach, GoGreen, and GoHelp. As part of the DPDHL group, BlueDart continues to redefine logistics through its innovative approach and service principles. Its seamless integration with air express services ensures door-to-door delivery, establishing its supremacy in eCommerce logistics across Kolkata.
FedEx
FedEx Founded in 1971 with the brand name Federal Express Corporation and later renamed FDX Corporation, FedEx is an express delivery company that has become a trusted logistics provider in Kolkata. It offers competitive pricing and ensures expedited transit times for shipping needs. With convenient features like scheduled pickups and package redirection options, FedEx caters to the diverse requirements of customers throughout Kolkata.
Gati Ltd
Gati Ltd This NSE-listed logistics provider began operations from its headquarters in Hyderabad in 1989. It primarily provides logistical services across the country and has a strong presence in cities like Kolkata. With an extensive network of 340 branches and over 1300 remote location services as of 2022, Gati Ltd stands as a reliable logistics provider. It specialises in end-to-end logistics solutions, catering to the needs of various industries, particularly eCommerce retailers, with a focus on efficiency and reliability.
Safexpress
Safexpress Recognised as a leading supply chain and logistics company, Safexpress prioritises secure cargo transport services. It upholds its brand name by implementing surveillance-driven practices to ensure the safety of shipments. Its services network includes Kolkata and other leading metro areas, rendering extensive services related to express distribution, warehousing, inventory management, and value-added services.
Conclusion
To make a business successful, one must keep a check on the type of logistics company used for daily operations. Poor logistics will dent a company's bottom line and brand image. At worst, it can be crippling because logistics is the physical manifestation of a transaction. Without it, there's no cash movement from the customer to the business. This is important, especially for eCommerce SMBs, as they do not have the buffer to manage huge gaps or losses if something goes wrong. So, the right logistics partner is imperative for their operations to run smoothly.