10 Best Logistics Companies in Indore [2023]
Indore is a city located in the central Indian state of Madhya Pradesh. It is the largest city in the state, known for its rich history and cultural heritage and a major commercial center. Indore is also a hub for education, with many top-notch colleges and universities located in the city.
Indore has also emerged as a warehouse and logistics hub in recent years. The city boasts of well-developed transportation and communication infrastructure, making it an ideal location for warehousing and distribution operations. Additionally, Indore's proximity to major industrial cities and ports, such as Mumbai, makes it a strategic location for companies looking to serve the central and western regions of India.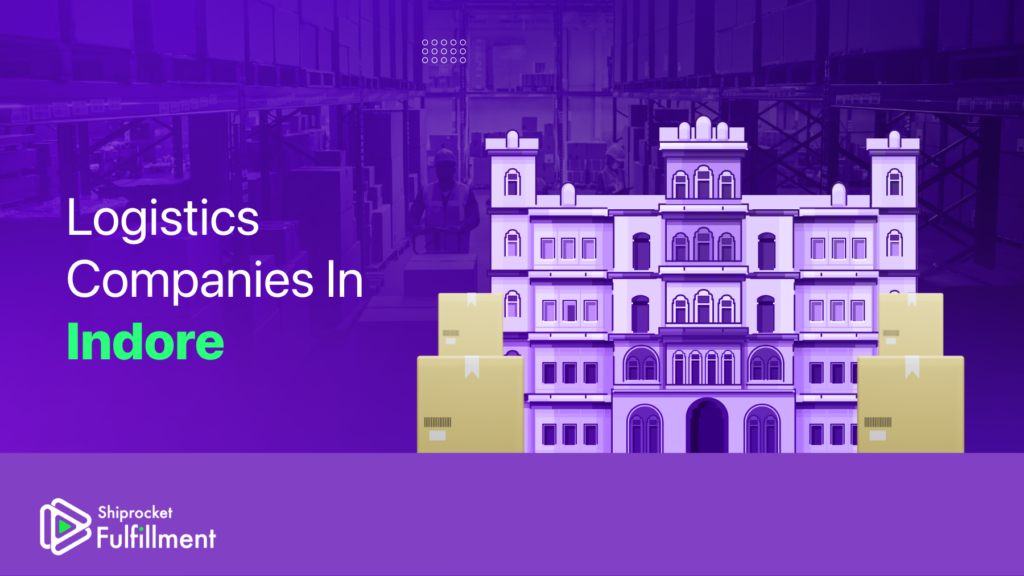 The warehousing and logistics industry in Indore has grown significantly in recent years, with a large number of companies setting up their operations in the city. These companies offer a vast range of services, including warehousing, transportation, and distribution, to meet the needs of businesses of all sizes.
Indore is a rapidly developing city that offers a favourable environment for businesses operating in the warehousing and logistics industry. With its well-developed transportation and communication infrastructure, a large pool of skilled labour, and strategic location, Indore is poised for continued growth in this sector, making it an attractive destination for companies looking to establish or expand their operations in India. Here is the list of top warehousing and logistics companies in Indore that play a crucial role in helping eCommerce businesses.
List of Top Logistics Companies in Indore
Flow Logistics
Flow Logistics is a leading freight forwarding company that specializes in providing international logistics services. With a team of professionals and over 6 years of experience, the company is known for its expertise in warehousing, handling cargo movements from origin to destination, and ensuring a smooth and hassle-free experience for its clients.
RCPL Logistics
RCPL Logistics is a logistics company that offers multi-modal logistic solutions. With a focus on timeliness and safety, the company has been operating for more than 20 years and aims to provide its services across the nation. RCPL Logistics provides a range of logistics solutions, including air cargo, warehousing, packaging, and train cargo services. These offerings allow them to provide comprehensive and integrated logistics solutions to their clients.
Shiprocket Fulfillment
Shiprocket Fulfillment is a comprehensive e-commerce warehousing and order fulfillment solution that offers a wide range of services. The company provides order fulfillment, warehousing, shipping, returns management, and inventory management services. Their goal is to help eCommerce businesses streamline their logistics operations and reduce shipping related stress and expenses. With Shiprocket Fulfillment, online sellers can access a centralized platform to manage all aspects of their shipping operations. Shiprocket Fulfillment has a network of over 45+ warehouses across India, providing online sellers with flexible and scalable warehousing solutions.

Carryfast Group
Carryfast Group is one of the leading 3PL companies in India. It provides a comprehensive range of third-party logistics (3PL) services, including express distribution, inventory management & order processing, warehousing, quality control, packaging, and labeling. Also, Carryfast Group can help manage your business's transportation requirements and offers customized solutions to fit your specific needs.
Life Care Logistics
Life Care Logistics has established itself as a well-known company in the logistics industry. It provides various services such as logistics solutions, regional distribution centers, warehouse management, and other infrastructure solutions to its clients across the country. The company aims to deliver impeccable services to its clients, economical logistics support, and efficient warehouse management solutions.
TCI Express
A leading logistics company, TCI Express, has a strong presence in Indore. It specialises in offering time-definite express delivery services and offers a wide range of logistics solutions, including transportation, warehousing, and supply chain management.
SafeExpress Logistics
SafeExpress Logistics is known for its reliable logistics services and offers end-to-end solutions for transportation, warehousing, and distribution. It offers tailored services to meet the specific needs of businesses, ensuring timely delivery of goods.
Gati Limited
Gati Limited is a renowned logistics company that operates in multiple cities, including Indore. It offers comprehensive logistics services, including express distribution, eCommerce logistics, cold chain solutions, and more. With a robust network, Gati ensures smooth and streamlined logistics operations.
Allcargo Logistics
A globally recognised logistics company, Allcargo Logistics offers a wide range of logistics services, including freight forwarding, project logistics, customs clearance, and contract logistics. Allcargo's expertise in handling complex logistics requirements sets them apart.
Blue Dart Express
Blue Dart Express is a leading courier and logistics company that specialises in domestic and international express deliveries. It offers reliable and time-bound logistics solutions. With a focus on technology-driven operations, Blue Dart ensures efficient and secure transportation of shipments.
How To Choose The Top Logistics Company in Indore
Choosing the best logistics company in Indore can be daunting, especially with so many options available. But, by considering certain key factors, you can ensure that you make the right decision for your business needs.
Network coverage: Check if the logistics company has a widespread network in the city and beyond. A company with a strong network can offer more flexible and efficient delivery options.
Delivery services offered: Evaluate the types of delivery services offered by the logistics company. Do they offer express delivery, same-day delivery, or international delivery? Ensure that the company can meet your specific delivery needs.
Price: Compare the prices of different logistics companies and choose the one that offers the best value for money. Keep in mind that the cheapest is not always the best.
Reliability: Choose a logistics company with a good reputation for reliability. Check for customer reviews and ratings to get an idea of their reliability.
Customer support: Good customer support is essential for resolving any issues that may arise during the delivery process. Choose a logistics company with a responsive and helpful customer support team.
Technology: Look for a logistics company that uses modern technology for tracking and delivery management. This will give you greater visibility into the delivery process and help ensure that your shipments are delivered on time.
Insurance coverage: Ensure that the logistics company offers insurance coverage for your shipments in case of loss or damage. This will give you peace of mind and protect your valuable goods during transit.
Partnership opportunities: The company should be open to forming partnerships and collaborations with other businesses to provide integrated and comprehensive logistics solutions.
By considering these key factors, you can choose the best logistics company in Indore that will meet your needs and provide a seamless delivery experience.