Fulfillment Status Walkthrough: Mapping Your Order's Path
Introduction
Timely deliveries are a must for all eCommerce businesses to ensure the best shopping experience for your customers. In today's world, poorly executed delivery easily makes you lose your customers. When packages are lost, delivered in bad conditions, or delivered late, your customers are bound to get frustrated. It affects the overall experience you provide your customers and ruins your brand's reputation.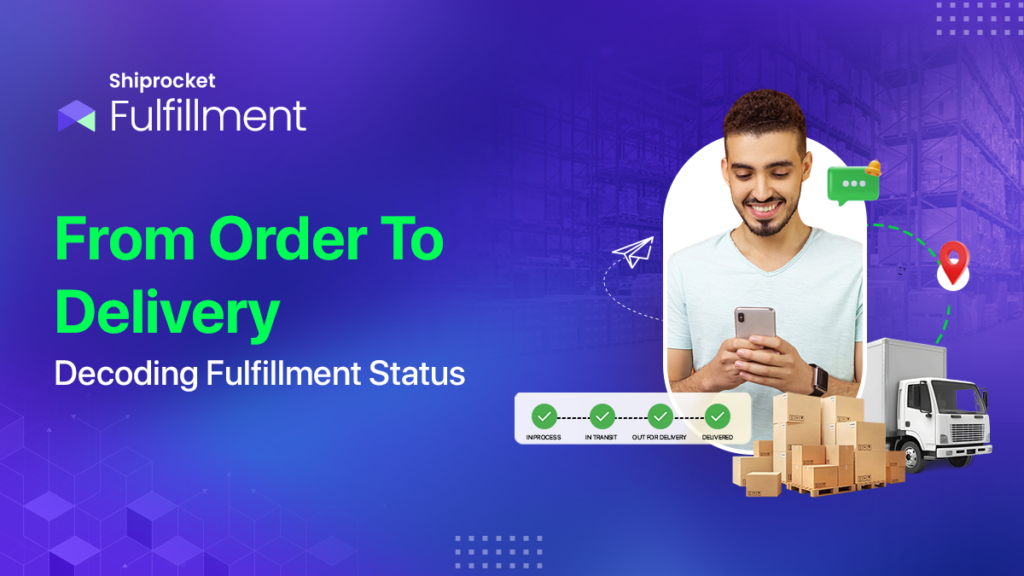 Achieving a stellar record for your customer experiences comes down to one crucial part of your business strategy. It is the order fulfillment strategy. It determines your brand's success and your profit rates.
Let's explore the fulfillment status, along with its entire lifecycle, in detail.
Understanding Fulfillment Status
Order fulfillment status depicts the current position of an order received by an eCommerce business.
The fulfillment status is simply the promise your business makes to the customer. Every confirmed order has a lifecycle. The life cycle has three major stages. These include:
Order placement
Order processing and confirmation
Order fulfillment
It gives you every specific detail regarding a specific order and whether it has been processed and confirmed. The fulfillment status shows the customer the stage at which their order is, including the payment status, until it gets delivered to the customer's doorstep.
Six major steps involve order fulfillment status. These include:
The first step in completing an order depends on the availability of goods to ensure. Before processing the final product, you must ensure that every item that needs to be delivered is of the right quality and lives up to your brand's reputation. Inventory can be handled in two methods:
A business storing inventory in-house and carrying out its management processes.
Outsourcing this responsibility to a third party. Based on the size and efficiency of your business, you can determine how to handle your inventory.
Warehouse management is the key to ensuring there are no delays in delivering the order. Warehouse management can be done in-house and by hiring a 3PL partner. Managing your warehouse defines the efficiency of your supply chain processes. Automated processes and warehouse management software can help you minimize manual errors that create back orders due to insufficient inventory. Furthermore, they also help you manage and restock your inventory better.
The next stage in order fulfillment status is order processing. Processing an order is equivalent to confirming an order received by the customer. It includes finishing up the product for the customer. Effective communication and constant updates are required for seamless information flow for completing the order. When a new order is placed, the warehouse staff must always be prompted about the needed inventory. Processing mainly includes identifying raw materials and inventory needed to complete an order and the final product to be sent out for delivery. The payment is also processed at this stage.
Any order must be packed properly before shipping. A well-packed product is less likely to be damaged during the transportation phase. The packages are also sent for labeling and weighing post-packing. Precision, efficiency, and transparency are very important for proper shipping. The key for the logistics team is to observe and get the lowest possible surface area dimensions while packing a shipment. It allows them to neatly stack more orders into the shipment vessel. Thus, it saves the overall transportation and fuel costs. Furthermore, it also saves time and reduces pollution.
An order is said to be completed only when the parcel is delivered to the end customer, along with a confirmation. An invoice also accompanies it. Written feedback from customers can help you improve your services and processes.
Your journey does not end when the customer receives their delivery. Post delivery, the customer can either accept or return their order. It also depends on the options you provide your customers. Certain eCommerce businesses are rigid, and they do not accept returns. However, having the return option gives your customers more flexibility, and they enjoy the shopping experience better. Upon return, the items must be checked thoroughly for damage or other issues, and the refund process must begin. Staying in touch with your customers and getting feedback will help you understand the causes behind the returns and methods to eliminate returns.
Distinguishing Order Status and Fulfillment Status
The table below highlights the difference between order status and fulfillment status.
| | |
| --- | --- |
| Order Status | Fulfillment Status |
| Order status is primarily related to actions carried out by your customers. | Unlike order status, fulfillment status is completely related to the activities carried out by your business. |
| Order status refers to your business's progress made towards completing an order. | Fulfillment status covers the entire process, from receiving the order to picking, packing, and shipping the order to the customer. |
After a customer places an order, it goes to the fulfillment process to be picked, packed, and shipped. A fulfillment status informs the customer how far their order has been processed. It also informs them of their order's shipment status.
Glossary of Fulfillment Status
Fulfillment status has several terms that sound alike but have different meanings, signifying different stages in the order fulfillment cycle. When your order is in 'fulfillment,' it means that it is processed and awaiting shipment. Here are some terms that represent different stages in the fulfillment lifecycle.
When a shipment has multiple orders from a customer, and only a portion is delivered, it refers to a partially fulfilled order. For instance, when a customer orders multiple products in one order or shipment, and not every order is complete at the time of processing, only those ready are shipped. The pending parts of the order are delivered in another shipment. The customer receives an update regarding the same via email or text based on the policies of the eCommerce business.
A shipment that contains a complete order is known as a fulfilled shipment. It does not wait or depend on the customer rejecting or accepting the final delivered product.
An order that is just placed is called an unfulfilled order. It is termed as such until the product is delivered to the customer or the order has been deactivated due to some reasons. The status remains unfulfilled until the order has been picked up.
Scheduled status is awarded to prepaid orders before the completion or fulfillment date is reached.
An order is placed on hold when the buyer has added items to their cart but has not yet confirmed or paid for the shipment.
Incomplete orders are awarded a 'pending' status when a buyer begins the checkout process but fails to complete it. It is very similar to an order placed on hold.
This status is awarded to those orders where the buyer has completed the checkout process but has not completed the transactions required to process the order. The order is received, but the payment remains pending.
Failed orders are those orders where either the payment has failed, requires confirmation, or is declined. A failed order can also be shown as pending until the payment details are verified.
Awaiting fulfillment is awarded to orders where the checkout process has been completed, but the transactions are yet to be completed.
When an order is given this status, it indicates it is ready for pickup. It has been picked, packed, and labeled and is ready to be shipped off to the customer.
As the name suggests, these are completed orders. Orders delivered to the customers are termed as completed orders.
Both customers and eCommerce businesses can cancel orders. Customers can cancel orders due to several reasons, including change of mind, etc. Businesses mostly cancel orders due to the unavailability of products.
When the money is returned to a buyer after they have returned the order, the status is shown as refunded.
Considering Outsourced Order Fulfillment: Shiprocket Fulfillment
Hiring a third-party logistics company to manage your logistics process can help you fulfill more orders easily and seamlessly. With Shiprocket Fulfillment's warehousing and logistics solution, you can give your customers a premium eCommerce shopping experience.
Managing your inventory and warehouse management processes becomes even easier with Shipprocket Fulfillment's automated solutions that minimize manual errors and integrate all your supply chain processes effortlessly.
Outsourcing your order fulfillment will help you ensure that your customers always receive their shipments on time. Shiprocket Fulfillment is a complete end-to-end fulfillment solution that helps you build a stronger and long-lasting relationship with your customers.
Shiprocket Fulfillment can help you increase your delivery speed by up to 40% and reduce shipping costs by 20%.
Take control of your order management processes with Shiprocket Fulfillment!
Conclusion
Order fulfillment involves the execution part of your entire supply chain process. It determines your brand value as it is solely responsible for your customer's overall experience with your business. Understanding all the states under the fulfillment process will allow you to manage your logistics operations better, reduce delays, and increase profits. Different stages in the fulfillment processes serve as identification tags to help you manage your shipments and keep your customers in the loop. Today, there are several automated solutions that you can leverage to ensure that your orders are not damaged or delayed. Eventually, it can help you provide your customers with a seamless delivery and tracking experience.
What are the benefits of fulfillment status?
Fulfillment status can help you accurately manage your inventory, offer your customers real-time visibility into the shipment process, and increase customer satisfaction.
How can you track the before-fulfillment status of an order?
If you check the order status before fulfillment, you can classify the result as pending, awaiting payment, awaiting fulfillment, to be shipped, to be picked up, partially shipped, shipped, partial refund initiated, or disputed order.
How can you track the after-fulfillment status of an order?
If you check the order status after fulfillment, the result can be classified as delivered, canceled, returned, refunded, or declined.