Top 10 Freight Forwarding Companies in Kochi
The shipping and logistics industry is rapidly returning to its pre-covid market value, with most countries returning to trade globally. An important part of this growth has been the change in consumer buying patterns. Online buying and eCommerce are driving more shipping and freight forwarding activity as companies compete intensely to capture the Indian virtual buyer market. The Indian logistics market is expected to grow at a CAGR of 8.3% and is likely to be a $650.52 billion market by 2028. The logistics market growth is taking place in important ports of the country like Kochi, Kolkata, and Mumbai and in tier-1 and tier-2 cities as people across the country adopt digital and social buying.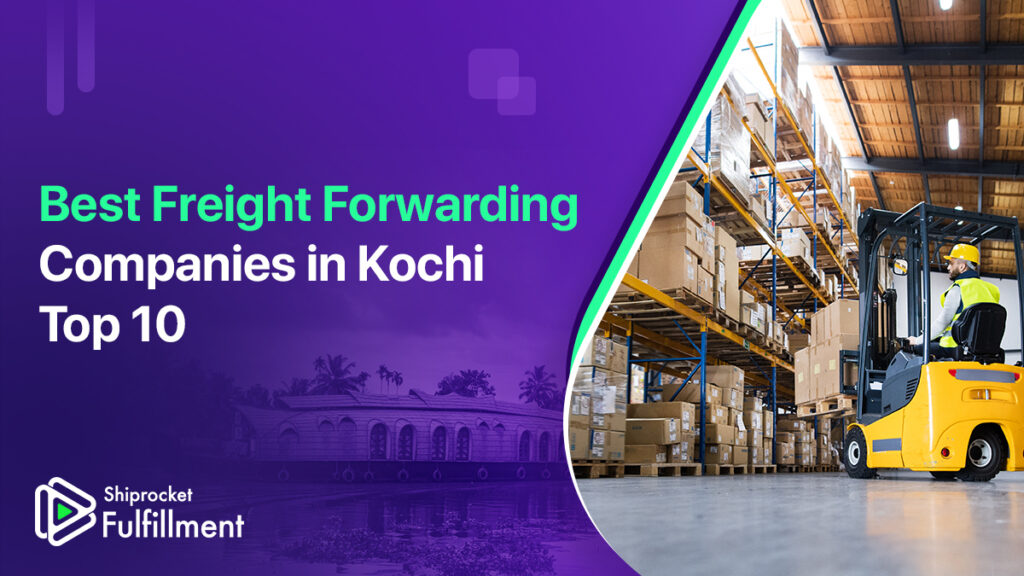 Here are the 10 freight forwarding companies in Kochi. These companies are known to offer warehousing and fulfillment services enabling eCommerce companies and D2C businesses to save capital in operating such facilities and reach higher operational efficiency.
Freight Forwarding Companies in Kochi: Top 10 Service Providers
Kochi is a city on the western coast of South India and is known for its large business diaspora in West Asia, especially the United Arab Emirates. Hence, it plays a significant role as a logistics and transportation hub and is home to numerous freight forwarding companies in Kochi. They provide a range of services for retail businesses, D2C brands and eCommerce platforms. Many of these providers are technology-first players and are quickly redefining freight forwarding services in the city.
1. DHL Global
The international forwarding and logistics giant, provides its services in Kochi city, working closely with local and international businesses to deliver goods anywhere in the world. It supports freight forwarding by air, sea, road and rail transportation, customs clearance, and warehousing services.
2. KWE India
This is a reputed logistics supplier from Japan, and its Indian subsidiary has emerged as a valuable service provider in the country. It has brought the service standards of the parent company Kintetsu World Express to Kochi and other parts of the country. This is the company to partner with if cargo insurance and packaging are a priority in your business niche.
3. Agility Logistics
This company has well-established services in Kochi and is a great choice for businesses needing multiple freight forwarding options. It is known for its services for the healthcare industry, automotive and consumer goods.
4. DB Schenker
This global logistics provider offers multimodal services supporting all supply chain needs. Its services are easy to integrate with eCommerce platforms. They can also handle special events logistics. With a proven track record of delivering innovative solutions, DB Schenker prioritises sustainability in their freight and forwarding services, making them a reliable choice for businesses in Kochi.
5. FedEx
One of the most popular freight forwarding service providers in Kochi city, FedEx, supports end-to-end services. It includes customs clearance, warehousing facilities, and transportation for businesses from manufacturing to eCommerce.
6. Gati-KWE
This provider is a joint venture between two leading shipping and courier service providers. A home-grown brand, Gati Limited partnered with leading Japanese logistics provider Kintetsu World Express to deliver freight and forwarding services in Kochi and across the country.
7. Maersk
A reputed global logistics service provider, Maersk offers a number of services in Kochi, completing its footprint in South India as well. Kochi is strategic to Maersk operations as it is a crucial western coast port. Maersk leverages the location to deliver goods across Southeast Asia, including south Indian cities and towns.
8. Yusen Logistics
It is a well-known international logistics company that has services in the port city of Kochi as well. It primarily meets the needs of the fast-moving consumer goods industry and hence has a well-established network for automotive as well as healthcare services.
9. Kerry Logistics
This reputed Hong Kong-based logistics provider has a presence in Kochi, catering to the varied needs of online companies operating in the region. Its solutions are ideal for the electronics and fashion industries, along with a broad range of eCommerce services.
10. Hellmann Worldwide Logistics
The freight and forwarding service provider offers top-listed Airfreight, Seafreight along with Road & Rail services. It simplifies complex logistics requirements and uses technology to leverage business advantages for its customers.

These top-10 freight forwarding companies in Kochi ensure customers have much-needed facilities to fulfill their transportation needs and logistic processes. Their presence in Kochi ensures leading eCommerce brands and small businesses have the reach to deliver to customers in the smallest of towns and cities across the country.
Therefore, if you are an online business entity and require freight and forwarding services, then you should consider the above top-10 service providers in Kochi.
However, there is more to freight forwarding services than ensuring on-time deliveries. Technology is changing every aspect of how businesses operate. You need to break into the fast circuit of instant transactions and same-day delivery/next-day delivery. The next section will help you understand how your business can instantly switch pace and adapt quickly to changing consumer needs.
Shiprocket Kochi's All-in-One Solutions
Transform your business into the go-to choice with Shiprocket Kochi's All-in-One Solutions. Shiprocket Fulfillment provides unparalleled customer satisfaction through same-day or next-day delivery options. Here's how they tackle eCommerce and D2C brands' logistics and shipping challenges:
Extensive network of fulfillment centres across the country
Three times faster delivery
99.9% accuracy in operations
20% reduction in shipping costs
Lower operational expenses
Flexible fulfillment models
Speak to Shiprocket's Fulfillment experts today to learn more about their comprehensive services, including freight forwarding cost reduction, warehousing, inbound logistics, storage, quality control, packaging, and outbound logistics. Let Shiprocket take your business to the next level with its exceptional fulfillment solutions.
Conclusion
In the end, finding a freight forwarding company in Kochi is simple. Using a criteria-based selection process, you can easily find a suitable service provider. But if you want more than freight-forwarding services and need an enabler service that lets you reach your customers 3 times faster, you can rely on service providers like Shiprocket to add value to your freight-forwarding services.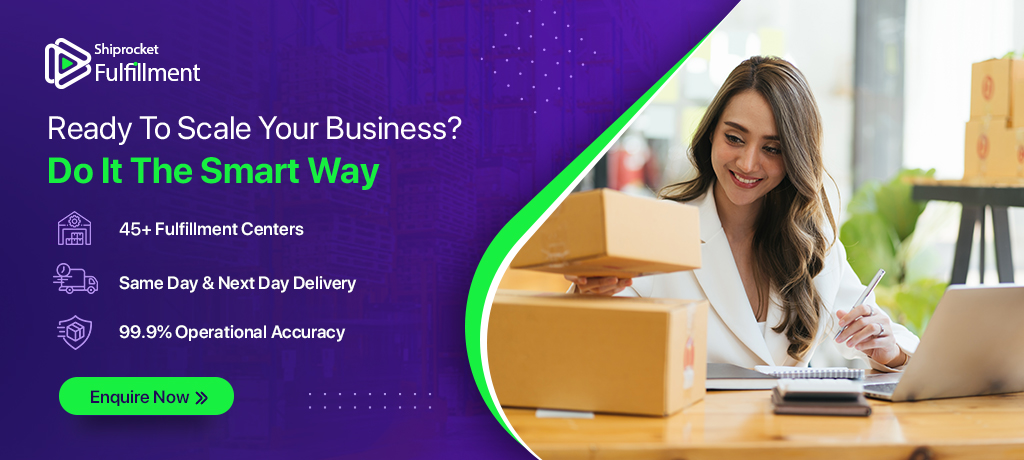 Frequently Asked Questions(FAQs)
What are the services specific to freight forwarding companies?
A freight forwarding company plans and handles the entire end-to-end management and transportation of goods from the point of origin to the customer's doorstep. The typical services include logistics processes, customs clearance, and warehousing.
Are freight forwarding companies and shipping companies the same?
No, they are different. Shipping companies focus on physical goods movement, while freight forwarding companies act as intermediaries to improve logistics efficiency and lower costs.
How to choose the right freight forwarding company?
The important factors to keep in mind when choosing a freight forwarding company are – years of experience in the industry, the necessary expertise, and how their previous clients rate them or how good the reputation of the company is in the industry.