Exciting Updates: Shiprocket Fulfillment Enhancements
We are thrilled to announce an exciting update that will revolutionize your order management experience, Shiprocket Fulfillment. Starting this month, we are rolling out this powerful feature to help you streamline your fulfillment operations and boost your business growth.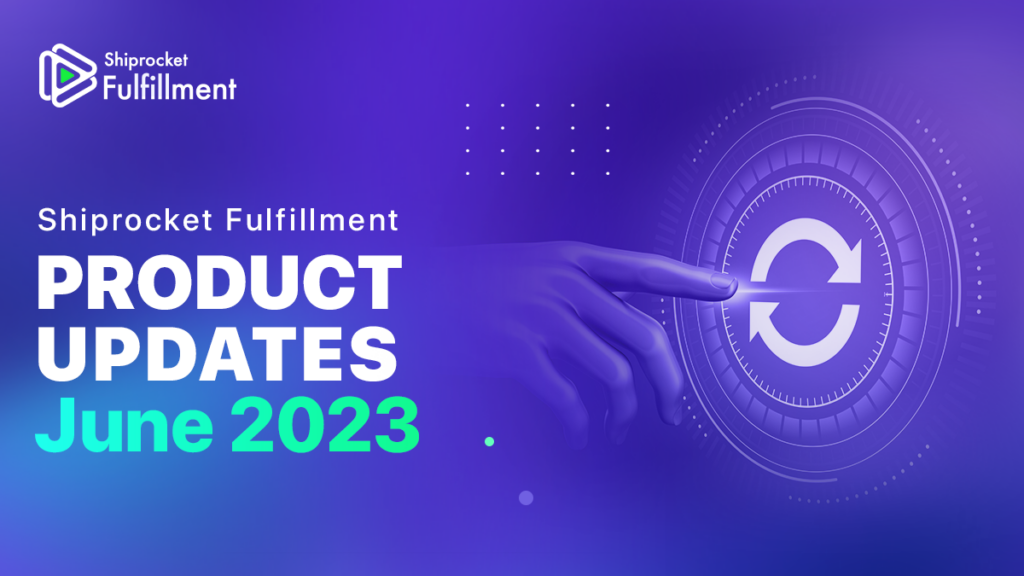 What is Shiprocket Fulfillment?
Shiprocket Fulfillment is an end-to-end order fulfillment solution designed to simplify and optimize your inventory management, warehousing, and shipping processes. With our comprehensive suite of services, you can focus on growing your business while we take care of the rest.
Unlock Valuable Insights with SRF Reports
The launch of the reports module on Shiprocket Fulfillment (SRF), empowering you with valuable insights and enhanced order management capabilities. Accessible through your Shiprocket Fulfillment Account.
Steps to Request or Download Reports:
Step 1: Log in to your Shiprocket Fulfillment account.
Step 2: Navigate to the 'Reports' option available under the left menu of the panel and click on that.
Step 3: Click on the Request Report option available under the Reports option.
Step 4: You can download any Report you need from the options of reports available on this page.
Step 5: To check downloaded reports, click on the 'Download History' button available in the right corner and you will be able to view all your downloaded reports and can download them again as well.
With a range of newly launched reports including ABC analysis for inventory, Daily inventory closing, Order summary, ASN (Advanced Shipping Note) Aging, Fulfillment Aging, Delivery Aging, Inventory Aging, and many more, SRF Reports provides you with crucial data to optimize your inventory management and streamline your fulfillment processes.
Simplify Return Processing with Shiprocket Fulfillment Returns
Shiprocket Fulfillment is excited to introduce a powerful new feature – SRF Returns. With SRF Returns, any return orders created via Bulk, API, or panel, with the destination address matching the warehouse address, will be automatically considered as SRF orders.
This allows for seamless processing and tracking of returns within our Warehouse Management System (WMS). You can conveniently manage SRF returns through the dedicated Shiprocket Fulfillment panel in the orders module, streamlining your return handling process and ensuring a hassle-free experience for you and your customers.

Streamline Stock Replenishment with Shiprocket Fulfillment's Inbound Management
Inbound on SRF is designed to enhance your stock replenishment process. With seamless end-to-end integrations with your Channel such as Unicommerce & Easyecom, you can now effortlessly manage your stock replenishment on our fulfillment centers. Our platform supports Purchase Order (PO) creation on Unicommerce, Easyecom, and will seamlessly process them as purchase orders in our FCs by fetching data from your channel.
Even if you don't have a WMS integrated, you can conveniently create POs directly on the Shiprocket Fulfillment (SRF) panel and perform all necessary activities. Additionally, you can easily create stock transfers on SRF to replenish stock within our FCs using another SRF FC. For added convenience, you can also create a gatepass on Unicommerce, and we will efficiently process it as a stock transfer on SRF. With Inbound on SRF, managing your stock replenishment has never been easier.
Grades Beyond Good and Bad on SRF Inventory View
We've made an enhancement to our Shiprocket Fulfillment (SRF) inventory view. Now, you have the ability to identify and track inventory in grades other than just good or bad. With this update, you can effortlessly check the SRF panel inventory view to gain visibility into the various grades assigned to your inventory. This empowers you to make more informed decisions regarding your stock.
Final Takeaway!
Shiprocket Fulfillment is set to revolutionize your order management experience with a range of powerful enhancements. From unlocking valuable insights with SRF Reports to the ability to track inventory in grades beyond just good or bad and easily identify courier-level problems, we are committed to simplifying and optimizing your fulfillment operations. The introduction of SRF Returns streamlines return processing, while Inbound Management makes stock replenishment a breeze. Shiprocket Fulfillment empowers you to make informed decisions and ensure exceptional customer experiences. Say hello to seamless order management and unlock the true potential of your business with Shiprocket Fulfillment.