Top 10 Courier Companies in India for eCommerce
The best courier companies in India help deliver the best customer experience by delivering parcels on time and in the best condition. They don't just help deliver orders from one place to another but assist you in creating a positive brand image. There are many courier companies in India, making it challenging to find the best shipping partner for your business. The best courier company must help you ship orders on time and at affordable rates.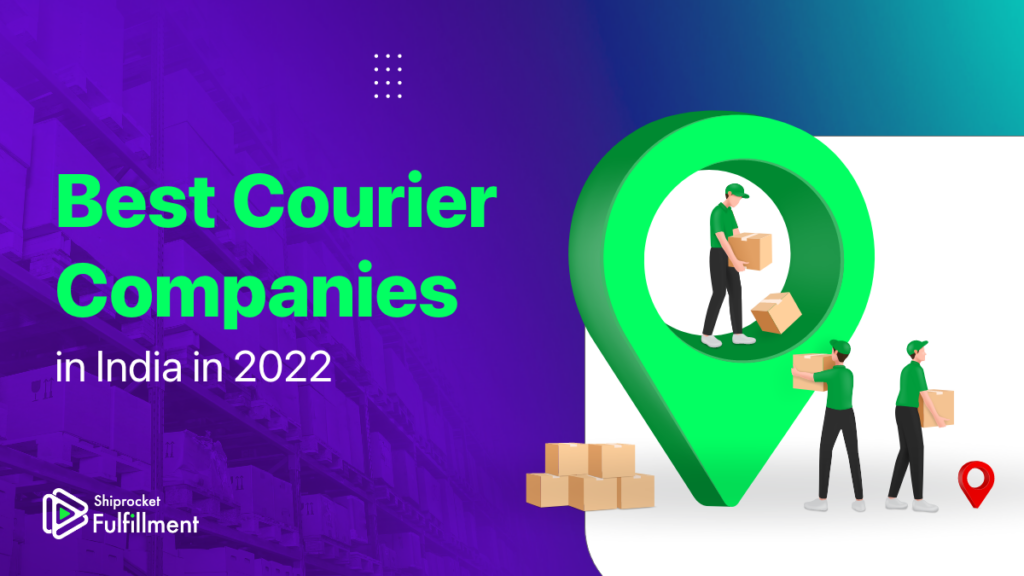 To help you with this, we have made a list of the best courier companies in India in 2023 that you can trust for your eCommerce business.
List of Top 10 Courier Companies in India
1. Ecom Express
Established in 2012, Ecom Express is a renowned name in the logistics sector. It has significantly impacted the industry with its outstanding services. Ecom Express offers end-to-end technology-enabled logistics solutions to the eCommerce industry. The company provides express, order fulfillment, door-to-door, and value-added services. It is headquartered in Gurugram and has a presence in 2650+ towns in India. You can deliver orders to 27,000+ pin codes with Ecom Express.
2. XpressBees
A well-known name in the industry, XpressBees is one of India's fastest-growing courier companies. You can trust XpressBees for B2B, B2C, cross-border shipping and third-party logistics solutions. The company offers round-the-clock customer support and helps businesses increase their profitability with its tech-empowered solutions. XpressBees handles three million+ shipments daily and has a well-established network in 2,500+ cities.
3. FedEx
FedEx is one of the world's biggest logistics companies and offers fast and reliable courier services to more than 220 countries and territories. It is one of the best options for time-sensitive shipments. Established in 1989 in the Middle East, FedEx started its journey in India in 1997. It has its headquarters in Dubai and has a vehicle fleet of over 3,466. You can ship hazardous, fragile, heavyweight, and high-value items with FedEx.
4. Gati
Gati was founded in 1989 and is an Indian shipping company known for offering customizable solutions to eCommerce brands. Known for on-time order deliveries, the company offers different products – quick delivery, warehousing solutions, and transportation mechanisms. It also offers COD order delivery options.
5. The Professional Couriers
Founded in 1987, The Professional Couriers is a trusted and reliable courier company. It offers domestic and international shipping, surface cargo, air cargo, and end-to-end logistics solutions. The company has good infrastructure support, an expert workforce, and a network of offices worldwide. The Professional Couriers has 100+ major hubs and has served 200+ countries. The company is your go-to option because of its cost-effective and consistent delivery services, value-added solutions, technology-enriched offerings, round-the-clock customer support, and order tracking.
6. DTDC
Headquartered in Bangalore, Karnataka, DTDC was established in 1990. The company handles 12 million shipments every month. The company offers domestic and international shipping, cash on delivery orders, express shipping, priority shipping, and supply chain solutions. DTDC is ranked one of the best shipping companies in India. Its services are backed by state-of-the-art technology and offer efficient order tracking and automated reporting.

7. DHL
DHL (Dalsey, Hillblom, and Lynn) was conceived in 1969; today, it is one of the world's leading courier companies. It is a well-known shipping company in India and offers domestic and international shipping to 220+ countries and territories. It specializes in FTL shipping, freight transportation, warehousing and distribution, and supply chain services. DHL has served several industries, including auto-mobility, chemicals, consumer, energy, engineering & manufacturing, life sciences & healthcare, public sector, retail, and technology
8. Delhivery
Incepted in 2011, Delhivery has become one of the leading courier companies in India in a very short period. They have a comprehensive range of logistical services on offer. They offer both domestic and international shipping. You can ship orders to 18,000+ pin codes in India. They also have 93 fulfillment centers and 2948 delivery centers across India. They have an active customer base of 28,000+ customers. They offer COD services and reverse logistics as well. However, their most extensive offerings are demand-based, same-day, and next-day delivery.
9. Blue Dart
One of India's leading courier companies, Blue Dart, serves 36,000+ pin codes in India and 220+ countries and territories internationally. They have an outstanding track record of delivering orders on time. Their shipping rates are also very reasonable, based on shipping distance and package weight. You can calculate shipping rates in advance through their price finder tool.
Apart from domestic and international shipping, they also offer temperature-controlled logistics services.
10. Shiprocket Fulfillment
One-stop solution for all your logistics and warehousing needs, Shiprocket Fulfillment helps you store and manage inventory and pick, pack, and ship orders. They have 45+ state-of-the-art tech-enabled fulfillment centers where you can store your inventory and offer your customers one-day and two-day delivery options. You can also integrate your sales channels with their platform and manage and ship orders seamlessly from a single platform. 600+ online business owners already trust Shiprocket Fulfillment with their order fulfillment operations.
We have talked about some of the best courier companies in India with whom you can partner for your business. All the companies have been active in the industry for many years and have a good customer base.