Best Warehousing Companies in Varanasi
Varanasi, also known as Banaras and Kashi, is a city on the Ganges river in the Northern Indian state of Uttar Pradesh. Usually referred to as India's cultural capital, Varanasi has since long provided the ideal environment for the development of various artistic endeavours. The city has been a great center of learning for ages and is associated with promoting spiritualism, yoga, and Sanskrit & Hindi languages. It has produced several celebrated musicians, dancers, and literary personalities.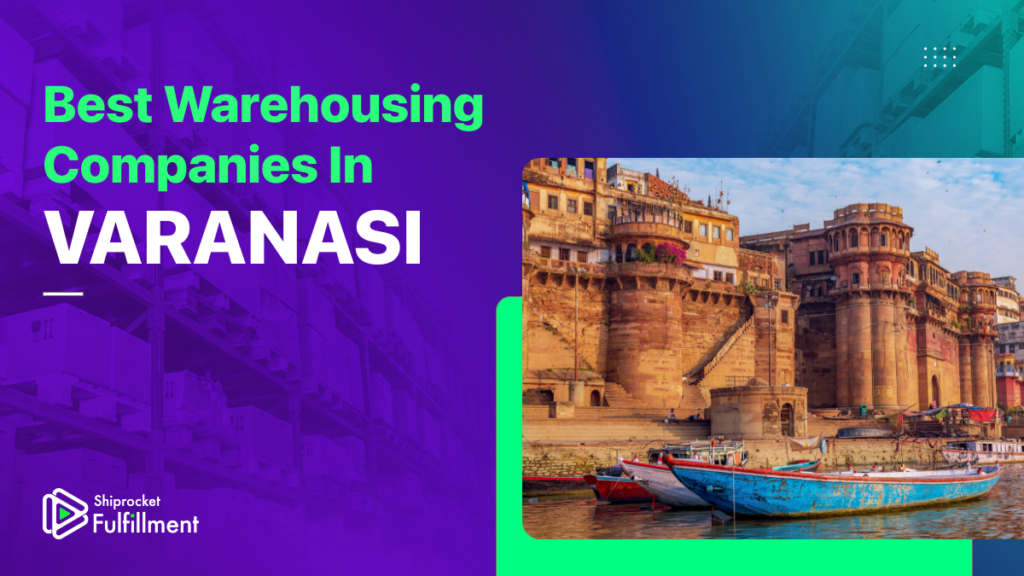 Varanasi is known throughout India for producing exquisite silk, Banarasi sarees, and brocades with gold and silver thread embroidery that are usually worn for weddings and exported throughout the world. The city has earned a reputation for excellence in trade and commerce, especially for silk weaving. Apart from the Silk and Tourism industry, a significant number of the local population is employed in the metal manufacturing industry. Other major commodities manufactured and traded in the city include hand-knotted Mirzapur carpets, rugs, brassware, copperware, and wooden & clay toys.
With the massive demand for silk and handicraft products all over India, a brand needs to maintain an inventory that can help with a sudden surge of orders. We have curated a list of the top warehousing companies in Varanasi that can help you store your inventory safely.
Top Warehousing Companies in Varanasi
OM Logistics Ltd.: OM Logistics became a pioneer in the logistics industry in 1999. Today, OM Group is a full-service transportation & logistics company with cargo management, flourishing day by day, spread over 1500 locations, 85 countries, and a huge space of 20 million square feet. OM Logistics offers services such as 3PL/warehouse service, surface service, air service, and rail service.

MR Logistics: MR Logistics is a leading logistics service provider in India & Australia. It strives to bring operational excellence and integrity to all transportation, moving, & international logistics services. MR Logistics is an expert in warehouse management, packaging & moving, and road logistics and provides safe, secure, reliable, high-quality services to its customers.

Shiprocket Fulfillment: If you are looking for end-to-end fulfillment and warehousing solutions, Shiprocket Fulfillment is your best bet, trusted by top brands and entrepreneurs. With 25+ courier partners under one roof, Shiprocket Fulfillment will handle your inventory and pick, pack and ship your business orders to 24,000+ pin codes in India and 220+ countries & territories. Shiprocket Fulfillment helps eCommerce businesses fulfill their orders smartly, having 45+ technology-enabled, state-of-the-art fulfillment centers across the country.

Xenon Logistics: Xenon Logistics is the most reliable and trusted logistics company in Varanasi and provides zero-error service through intelligent technology. They provide services such as warehouse management service, freight management service, material management solutions, and unique transport solutions.
How to Choose the Best Warehousing Company in Varanasi
Before opting for any warehouse, one should always make sure that the following points are considered:

Flexibility: Modern businesses change their operational values from time to time. To match them, the warehouse should be able to adapt to changing business needs and inventory levels. Failing to do this, the revenue and user experience of the business might be impacted.
Amenities: Consider whether the warehouse provides additional amenities such as tech abilities, temperature-controlled storage, etc. Though the maximum part of the warehouse is storing inventory, it is important that additional amenities be considered.
Insurance: Thanks to the booming e-commerce industry, even gold and diamonds are being sold online. This makes the inventory quite precious. In order to tackle losses due to any mishappening in the future, the warehouse should have appropriate insurance coverage to protect stored goods in case of damage or loss.
Maintenance: Considering the fact that most of the warehouses are located in remote areas. We should be vigilant enough to check the condition of the warehouse and its maintenance to ensure it is well-maintained and safe.
Staffing: Consider the availability of trained and reliable staff to handle warehouse operations. After all, it is a human touch that is required to run all the operations, despite the modern WMS and OMS software.