Best Warehousing Companies In Patiala
Patiala is a city in the northern Indian state of Punjab. On a significant rail route and a branch of the Sirhind canal, the city is located around 50 kilometers southwest of Chandigarh. It is among the popular tourist destinations in Punjab because of its strong historical and cultural background. The city is full of architectural marvels, which are a blend of Mughal and Rajput Architecture, and Qila Mubarak is one of the most rampant fort cum palaces, which has been built in the Sikh architectural style. Other prominent attractions include the Sheesh Mahal, Baradari Gardens, Lakshman Jhoola and Moti Bagh Palace.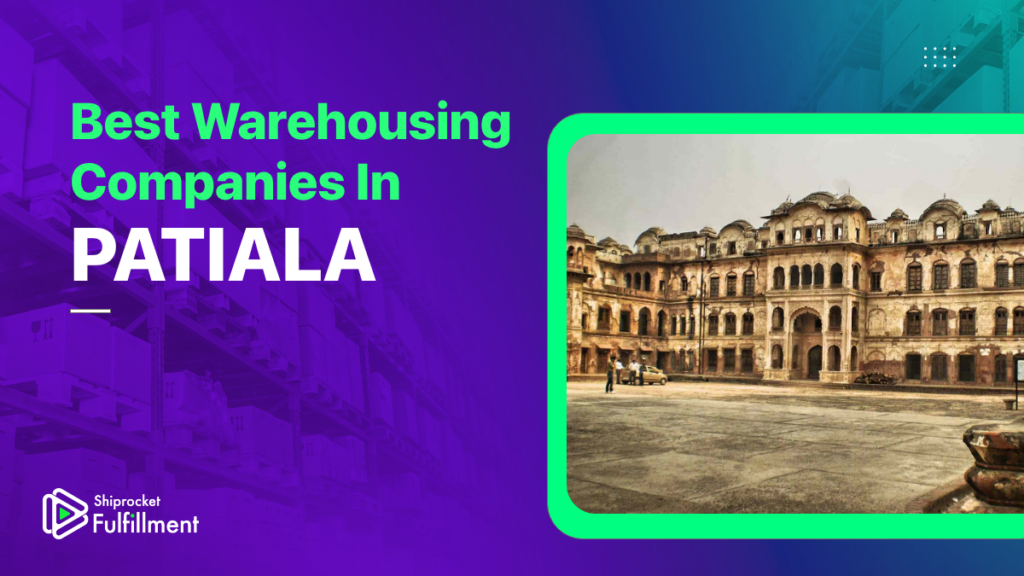 For the longest time, the city has been a center for trade and commerce. Recently it has begun to transform into an industrial town by manufacturing a wide range of commodities and setting up industrial units. Patiala has a flourishing agricultural sector, and the industries primarily manufacture traditional farm items. Products such as power cables, bicycles, dairy products, pesticides, and high-end precision tools form a major portion of industrial manufacturing.
Patiala has a healthy economy and a booming commercial sector that is constantly expanding. While the city has continued to rely on its traditional agricultural economy, it has also evolved to meet the new demands of modern industrialization. Over time, various fulfillment centers have been set up in the city equipped with modern technology. We have put together a list of the top warehousing companies in the city that can cater to all your business needs and help you expand faster.
List of Top Warehousing Companies in Patiala
Kohli Group
The Kohli Group of Companies is one of the largest business houses in Northern India. It has grown to become one of the most respected names in the logistics and supply chain industry. They provide a wide range of services, including warehousing, transportation, and fulfillment. Kohli Group operates a network of warehouses across India. They offer a range of storage options including ambient, temperature-controlled, and refrigerated storage, to meet the specific needs of clients.
Dexter Logistics
Dexters Logistics is a prominent logistics service provider across India with over 12 years of expertise, servicing 19000 pin codes. Dexter Logistics offers a wide range of services and provides end-to-end logistics services such as express distribution, eCommerce logistics, warehousing, transportation, and other value-added services.
Shiprocket Fulfillment
Shiprocket Fulfillment is a well-known and trusted warehousing and eCommerce fulfillment service provider. They operate a network of warehouses across India, allowing them to store and ship products to customers promptly and efficiently. With 25+ courier partners under one roof, they will handle your inventory, pick, pack and ship your business orders to 24,000+ pin codes in India and 220+ countries & territories. Shiprocket Fulfillment's services can help businesses streamline their logistics and supply chain operations, improve efficiency, and provide a better customer experience.

Om Logistics
Om Logistics is a leading logistics and supply chain management company in India, established in 1997. The company offers a wide range of services, including air services, rail services, and 3PL/warehousing services. It has a strong network of offices and warehouses across India, as well as an international presence. Om Logistics is known for its efficient and cost-effective solutions and is a trusted partner to many businesses in various industries.
How To Choose A Top Warehousing Company in Patiala?
When choosing a warehousing and fulfillment services provider, it's important to do your research and consider several factors to ensure that you select the best option for your business.
Location: Location is a crucial factor to consider. It's important to choose a provider with a warehouse that is strategically located in relation to your target market and shipping lanes. This will minimize transportation costs and lead times, which can ultimately save you money and improve customer satisfaction.
Storage Capabilities: Look for a provider that offers a variety of storage options, such as climate-controlled units, to accommodate your specific product needs. Additionally, ensure that the warehouse has adequate security measures to protect your inventory.
Fulfillment Capabilities: They are another important factor to consider. Look for a provider that offers a wide range of services, such as pick and pack, kitting, and assembly. This will allow your business to efficiently meet the needs of your customers and improve their overall experience.
Customer Service and Communication: Customer service is one of the key factors to consider. Look for a provider that is responsive and easy to work with and that provides regular updates on the status of your inventory and orders. This will help you stay informed and in control of your business operations.
Technology and Automation Capabilities: Look for a provider that utilizes modern technology, such as warehouse management systems (WMS) and transportation management systems (TMS), to optimize operations and improve efficiency. Automation can help streamline processes, reduce errors, and improve tracking and inventory management.
Scalability and Flexibility: As your business grows, you may need to increase or decrease your warehouse space and requirements. Choose a provider that can adapt to your changing needs and offer scalable solutions to accommodate your growing business.
By considering these factors, you can make a more informed decision and choose a warehousing and fulfillment services provider that can provide the technology, scalability, expertise, and compliance standards that your business needs to succeed.