Best Warehousing Companies in Kanpur
Kanpur or Cawnpore, is a major industrial town in the Northern Indian state of Uttar Pradesh. Nestled on the banks of the river Ganges and located on significant national highways, i.e. 2 & 25, the city is recognised as the financial capital of Uttar Pradesh. A beautiful city of gardens, temples and colonial architecture, Kanpur has a variety of recreational areas, such as the Kanpur Zoological park, Blue World Theme Park and Kanpur Memorial Church, among others.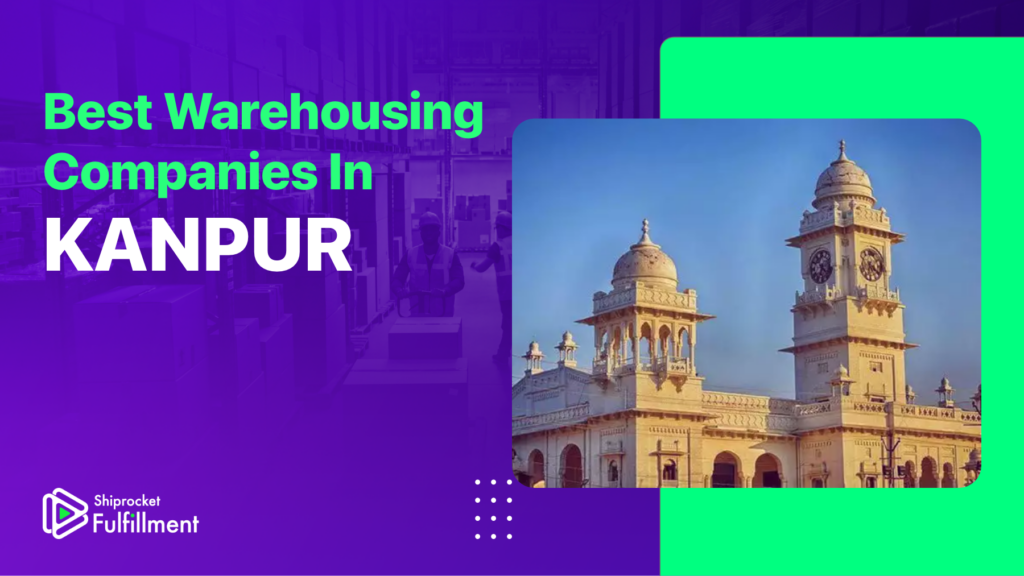 With the first woollen mill in India, commonly known as Lal Imli, established by Sir Alexander MacRobert in 1876, the city was named 'Manchester of India' during the era of the British India Corporation. Kanpur is also famous for its high-end leather & textile items, primarily exported to the west. In recent times, many types of industries have flourished in the city, such as FMCG, non-metallic mining, paper products and machinery. Factors contributing to the city's upward trajectory are proximity to large markets and the availability of a skilled workforce.
Warehouses are a crucial part of the supply chain to provide speedy delivery to consumers. We have put together a list of top warehousing companies in Kanpur which can help brands with same-day/next-day delivery.
Top Warehousing Companies in Kanpur

Pristine Group: Established in 2008, Pristine Group is one of the leading Indian multi-modal integrated logistics players. It provides synergetic logistics infrastructure and services, including non-container, container, rail, and road transportation services. Pristine Group also offers warehousing, storage, cargo handling, and third-party logistics services across India.

Inland World Logistics: Inland World Logistics is a leading logistics and transportation company in India. With 550+ branches, they offer secure and safe services to over 350+ locations across India. Inland World Logistics also provides a wide range of distribution services like air express, ocean logistics, 3PL warehousing & consulting, supply chain solutions, and freight forwarding services.

Shiprocket Fulfillment: Shiprocket Fulfillment is one of the most trusted 3PL order fulfillment and warehousing storage service providers, which helps to store, manage, pack, and deliver orders for eCommerce sellers. In addition to warehouse storage, you can opt for value-added services like product quality checks, packaging, labelling, etc. Shiprocket has more than 45 warehouses across the country with smart features such as WMS (Warehouse Management System), channel integration, logistics tech, and order management system.


Onward Shipping (India) Private Limited: Established in 2008, Onward Shipping India (OSIPL) is a well-reputed shipping & clearing service provider in India. OSIPL is located in Kanpur, India and extended its business frontiers to Kolkata, Chennai, Delhi, Bhadohi, and Mumbai. They offer air freight, ocean freight, surface freight, and warehousing services.

AKS Logistics: AKS Logistics is one of the largest freight forwarding companies managed by an international logistic specialist team with years of experience. The company deals in sea freight forwarding, project cargo management, air freight forwarding, customs clearance & warehousing.

Tips to Choose the Best Warehousing Company in Kanpur

Choosing the best warehousing company for your eCommerce business is not an easy task. Various factors must be considered while selecting an appropriate warehouse that meets all your business needs. If any factor is ignored, things could go south swiftly, resulting in business losses. Some of the vital factors are listed below:
1. Tech Enablement: The technical angle of a warehouse is extremely important, especially if the warehouse is being used to store the inventory for an eCommerce business. While choosing a warehouse, ensure it is fully equipped with WMS (Warehouse Management System) and OMS (Order Management System). WMS & OMS help with inventory management, SKU dissipation, inventory prediction, etc.
2. Location: If your warehouse is closely connected to the user base where the inventory is to be finally delivered, the timelines are managed more efficiently. Fast and safe deliveries result in controlled supply chain management, excellent return order management, and an outstanding user experience.
3. Costing: Kanpur, being an industrial hub, gives you a lot of warehousing options with a huge variation in their prices. It is always a good bet to go through all the options and choose the one which solves your problems effectively at the best cost.
4. Flexibility: A warehouse must be flexible enough to cope-up with the change of business nature. In the future, if you decide to alter your LOB (Line of Business), you should not go on the hunt for a new warehouse.
5. Workforce Availability: The workforce is the fuel to any operational structure. A good warehouse is operated by a good workforce. So, ensure that the warehouse has a skilled and experienced workforce.