Best Warehousing Companies In Ghaziabad
Ghaziabad, part of Delhi-NCR, is a city in the northern Indian state of Uttar Pradesh. Also known as the Gateway to Uttar Pradesh, the city has evolved as one of the significant industrial hubs in India. The town is well-connected with important cities in northern India through an extensive transportation network of roads and railways. Many workers commute daily from Ghaziabad to neighbouring cities. Vegetable oil, electroplated goods, tapestries, bicycles, railway coaches, heavy chains, brass brackets, lanterns, glassware, ceramic paints, and varnish are some items manufactured in the city. In addition, the city has well-established tobacco and cigarette factories, along with a robust electronics industry. Major industrial companies in the city include Modi Sugar Mills, Dabur India, Bharat Electronics, and Tata Steel, among others.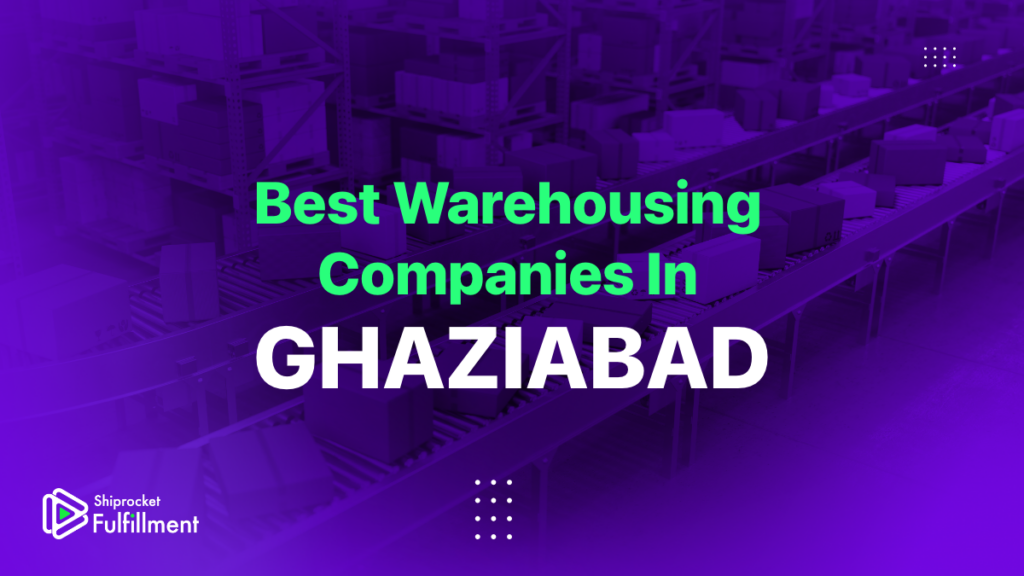 Industrial and economic development has increased job opportunities in the city. Due to this, the real estate sector has picked up and outperformed beyond all expectations when it comes to purchasing, renting, and leasing commercial properties. We have put together a list of the top warehousing companies in the city that can help you to save your capital and scale your eCommerce business seamlessly.
Top Warehousing Companies in Ghaziabad
AOR Logistics Pvt. Ltd.
AOR Logistics is an integrated logistics company that offers end-to-end logistics solutions. This means that they provide a comprehensive range of services that cover all aspects of logistics, from initial planning and transportation to final delivery and after-sales support. Some of the services they offer include sea freight, contract logistics, warehousing, packing services, and more.
AAJ Enterprises
AAJ Enterprises is a one-stop solution for B2B businesses and provides responsive, reliable & cost-effective warehousing and transportation services. They offer a wide range of services, such as warehousing, eCommerce fulfillment, operational management, transportation, returns management, value-added services, and more.
Shiprocket Fulfillment
Shiprocket Fulfillment is a reputed solution provider for warehousing, logistics, inventory, and storage distribution, trusted by more than six hundred large-scale users. They have 45+ tech-enabled warehouses across the country with smart features such as WMS (Warehouse Management System), logistics tech, sales channel integration, and order management system. Shiprocket Fulfillment helps to store, manage, pack, and deliver orders for e-commerce sellers, enabling them to offer their customers same-day and next-day delivery.

Oceanid Logistics
Established in 2006, Oceanid Logistics is a multi-modal logistics company that offers a range of services, including warehousing and local distribution, door-to-door delivery service, air freight forwarding, import & export consolidations, customs clearing, etc. Oceanid Logistics helps businesses manage the movement of goods and materials from one location to another, as well as handle customs and other regulatory requirements.
R.K. Logistics
R.K. Logistics is a freight forwarding company and has offices in Mumbai, Delhi (Head Office), Bhadohi, Moradabad, Ludhiana, Kolkata, and Chennai. The company has a long history of providing reliable logistics services to its customers. Some key services offered by R.K. Logistics include freight forwarding, customs clearance, warehousing, and distribution.
How To Choose A Top Warehousing Company in Ghaziabad?
Warehousing and fulfillment services are crucial for any business that sells physical products. These services ensure that your products are stored safely and efficiently and that they are delivered to your customers in a timely and accurate manner. Choosing the right warehousing and fulfillment service provider is essential to the success of your business, so it's important to take the time to evaluate your options carefully.
Determine Your Needs: The first step in choosing a warehousing and fulfillment service provider is to determine your specific needs. Consider factors such as the types of products you sell, your storage and handling requirements, and the volume of orders you receive.
Research Potential Providers: Once you have a clear understanding of your needs, you can begin researching potential providers. Look for providers that have experience in your industry and that offer the services you need. Consider factors such as location, cost, and customer service.
Evaluate Facilities and Capabilities: Once you have narrowed down your list of potential providers, you must visit their facilities and see their capabilities firsthand. Look for clean and well-maintained facilities with ample space and the right equipment to handle your products.
Check Customer Service: It's important to find a provider that offers excellent customer service. Look for providers that are responsive and easy to communicate with and that have a track record of meeting the needs of their customers.
Check Pricing and Contract Terms: Before making a final decision, it's important to carefully review the pricing and contract terms offered by each provider. Look for providers offering transparent and fair pricing and flexible contract terms that can be adjusted to meet your evolving needs.
By following these steps, it'll be slightly easier to choose a warehousing and fulfillment service provider that will help your business thrive. With the right provider in place, you can rest assured that your products are in good hands and that your customers will get timely deliveries.