Best Warehousing Companies in Chandigarh
Chandigarh is the capital of the Northern Indian states of Punjab and Haryana. Punjab borders the city from the west and south and Haryana from the east. Chandigarh is one of India's first planned cities after independence and is renowned worldwide for its architecture and urban planning. Expanding on the initial work of Polish architect Maciej Nowicki and the American planner Albert Mayer, the Swiss-French architect Le Corbusier developed the city's master plan. It is among the major tourist destinations in India and boasts attractions like Rock Garden, Rose Garden, Timber Trail and Sukhna Lake, among others.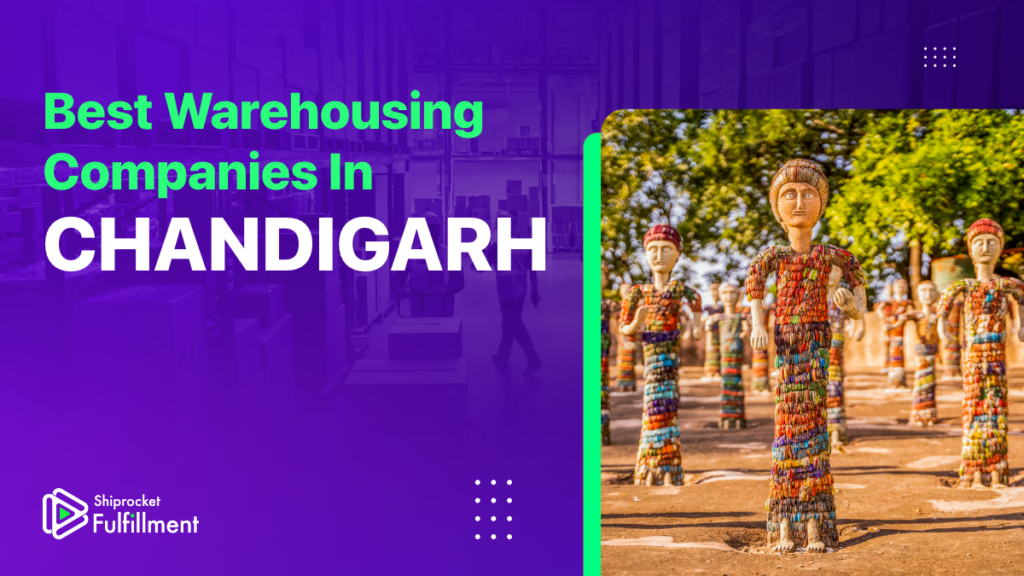 Chandigarh has a well-developed social, physical and industrial infrastructure and is well-connected with road and rail networks. The city has a presence of over 2900 small-scale and 15 large and medium-scale units. Metal alloy units are among the leading industries, and approximately 40% of all industries are ancillary businesses that manufacture parts for tractors. Other sectors in the city include electronics, pharmaceuticals, plastic goods, sanitary fittings, and food items. The city's industrial area is located on the South-Eastern side and is well-connected with the railway station and national highway, making it easier for oversized vehicles to enter and exit.
We have curated a list of top warehousing companies for SMEs and established businesses to fulfill their order fulfillment and warehousing needs without burning holes in their pockets.
Top Warehousing Companies in Chandigarh

AR Logistics: AR Logistics provides reliable logistics solutions to sellers in both domestic and overseas markets. AR Logistics supports all types and sizes of companies across different sectors, such as healthcare, retail, automotive, etc. The company offers services such as warehousing, rail freight, air freight, sea freight, road freight, and so on.

Core Logistic Pvt. Ltd.: Core Logistic is a leading name in warehousing and logistics services in India. Core Logistic started its journey as a pioneer in integrated logistics management with 3PL and warehousing services in 2004. It covers over 2.61 lakh sq ft of warehousing space spread across 29 locations across India. Its services include warehousing, forward logistics, reverse logistics, inventory management, and many more.

Shiprocket Fulfillment: Shiprocket Fulfillment offers end-to-end fulfillment and warehousing services. With 25+ courier partners under one roof, they will handle your inventory, pick, pack and ship your business orders to 24,000+ pin codes in India and 220+ countries & territories. Shiprocket Fulfillment's warehouses are the best bet for business logistics. They offer a host of services, such as first-mile logistics, last-mile logistics, logistics for hyperlocal businesses, and B2B logistics.


Atal Logistics Private Limited: Atal Logistics is a 3PL service company founded by Mr. Attar Singh. The company has been specializing in warehousing and logistics management with a strong presence in North India since 1966. They have more than 5 lacs sq. ft. of secured & safe storage space. Atal Logistics has functionally efficient and smart warehouses that provide best-class warehousing and logistics services.

Skyross Group: Skyross Group is one of the fastest-growing logistics companies in India, established in the year 2013 and headquartered in Chandigarh. Skyross Group specializes in the construction and supply chain, including multi-temperature warehousing, logistics, and energy solutions.

How To Choose A Warehousing Company in Chandigarh
Chandigarh has been a business hub for a long time. The concept of warehousing is not new for this city. However, with changing times, a few factors have emerged as vital when choosing the warehouse for your business. Whether the warehouse is being purchased or leased, the below factors must be considered.
Flexibility: An ideal warehouse should be flexible to your business needs. Changes in business needs, operations, and patterns are very common in this fast-paced environment. You do not want to get into the process of signing up for new warehouse services every time your business evolves. Always choose a warehouse that is flexible enough to change along with your business needs.
Ease of Integration: As a business owner, one wants all the horizons open for revenue generation. You will want your inventory to be sold on multiple B2B, B2C, D2C, and retail platforms. Hence the warehouse systems should be easily integrable with different marketplaces.
Tech Ability: Gone are the days when warehouses were defined as large, dark buildings with tin roofs and iron racks. Nowadays, warehouses are well equipped with perfect lighting, security cameras, and very efficient OMS (Order Management System) and WMS (Warehouse Management System), which gives you an edge with inventory prediction. These features are a must when choosing a warehouse.
Location: Always prefer the warehouse which is nearest to your target user base. When a warehouse is close to the consumers, it reduces the delivery time and helps manage the return orders efficiently, resulting in better customer satisfaction and increased repeat purchases.
Workforce: It is not the machines or value-adding software that run the warehouse efficiently. An efficient warehouse is run by an efficient workforce. Before finalizing the warehouse, always keep the efficiency of the workforce in mind.