Best Warehousing Companies in Agra
Once the capital of the Mughal Empire, Agra is a city in the Northern Indian state of Uttar Pradesh. Agra is a popular tourist destination as it is home to one of the seven wonders of the world, the Taj Mahal. Often recognized as the finest example of Mughal architecture, the Taj Mahal was named a UNESCO World Heritage site in 1983. Other attractions in the city include Akbar's citadel and Fatehpur Sikri.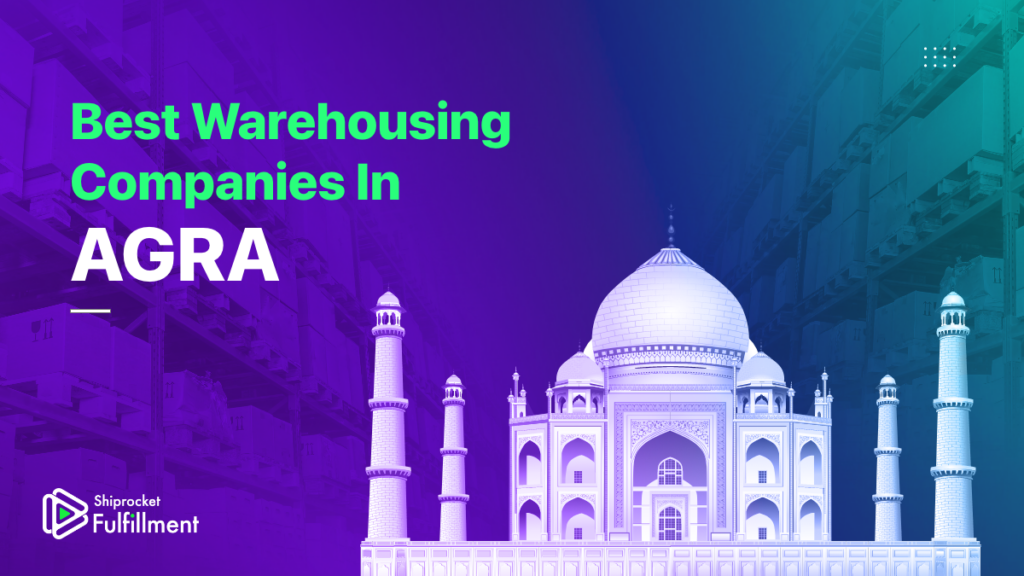 Along with a booming tourism industry, Agra has developed into a significant industrial town post-independence. With a robust road and rail network connectivity, the city is well-known for its leather goods and decorative arts like Pietra Dura, marble inlay and handwoven carpets. The city comprises about 7200 SMEs and 12 large and medium-sized companies producing electrical goods and pipes, among others. In Agra, Sanjay Place serves as the commercial hub, and the total output of shoe factories is more than 1.5 lakh pairs a day.
The city's rich cultural and artistic heritage provides an enriching environment for various eCommerce businesses. You can easily grow your brand locally and reach global markets with high demand for creative goods.
In this blog, we have compiled a list of Agra's top warehousing companies that can help you expand your business and keep the products in a secure facility with 24/7 surveillance.
Top Warehousing Companies in Agra
Utsav Enterprises: Utsav Enterprises was established in 2005 by Mr. R.K Bindra. The company is based in Agra and specializes in providing warehousing & logistics solutions to the FMCG industry as a super stockist (SS) and distributor in MT-modern trade & IT-Institutional Trade for Uttar Pradesh and neighbouring cities.
2. Kataria Carriers: Established in 1979, Kataria Carriers is one of India's first logistics companies to provide services to general cargo as well as hold expertise in trailers and modular hydraulic axles. It offers effective service in three verticals: transportation, value-added services, and warehousing. Kataria Carriers currently owns & operates warehousing facilities spread over a land area of 24 acres.
3. Shiprocket Fulfillment: Shiprocket Fulfillment is the most trusted 3PL warehousing and order fulfillment service provider in India. It helps store, manage, pack, and deliver orders for eCommerce sellers and has 45+ tech-enabled fulfillment centers across PAN India, such as Delhi, Hyderabad, Pune, Chennai, Jaipur, Ludhiana, Kochi, Bhubaneshwar, Patna, Indore, Surat and many more. With 25+ courier partners under one roof, they will handle your inventory, pick, pack and ship your business orders to 24,000+ pin codes in India and 220+ countries & territories internationally.

4. Snowman Logistics Limited: Snowman Logistics is India's leading integrated temperature-controlled logistics service provider, with expertise in providing warehousing, distribution, and other value-add services. Its warehousing infrastructures include advanced equipment handling, racking, and warehouse management software systems.
How To Choose The Top Warehousing Company in Agra

There are multiple points to be considered when it comes to choosing a warehouse in any city. It is nearly impossible to list all the points. However, we have listed the most vital points to check before selecting a warehouse.
Cost: Compare the costs of different warehouses, including rent, utilities, and any additional services offered.
Inventory management: The warehouse should have a system to track and manage inventory, such as barcoding or RFID technology.
Size and layout: The warehouse should be large enough to accommodate current and future inventory and should be able to easily accommodate any change in storage needs
Scalability: It is important that the warehouse must be scalable to accommodate growth in your business and inventory.
Relationship with the supplier: Consider the relationship with the supplier, and check the delivery schedule and lead time.