Beginner's Guide to Warehouse Facilities: Definitions, Requirements, and Functions
When it comes to eCommerce businesses, delivering orders to customers on time and at a low cost is extremely important. To make this happen, a strong supply chain is needed, and one of its crucial parts is warehouse facilities. These facilities are responsible for managing the inventory, sorting, and preparing products for distribution. In this guide, we'll explain what warehouse facilities are, what features they should have, what functions they serve, and how warehousing facilities in India can help eCommerce businesses improve their operations.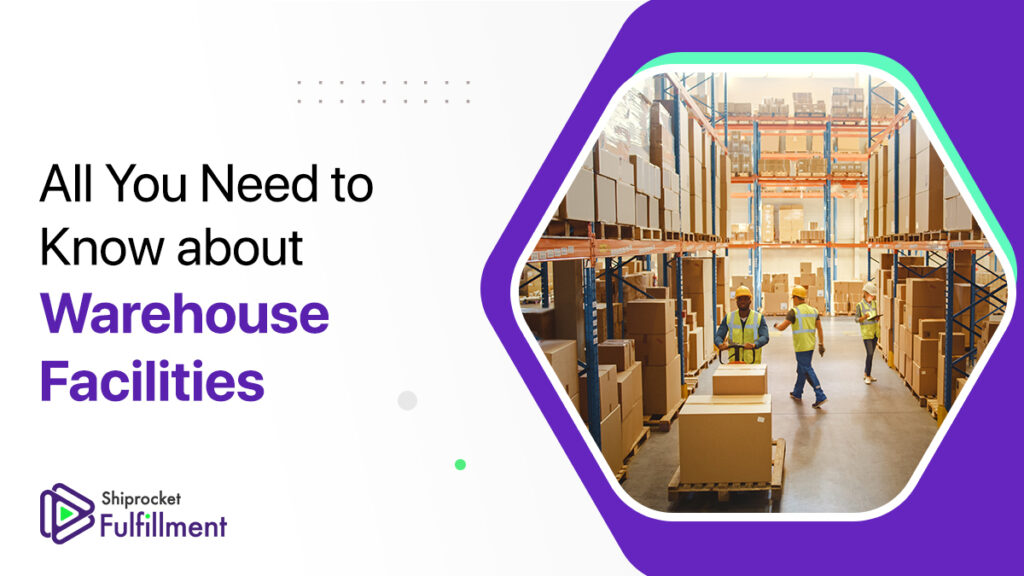 Warehouse Facilities: Definition
A warehouse facility is a large complex designed to store and distribute goods. It may be owned by third-party logistic providers and tailored to cater to small-scale storage needs or large-scale distribution centers. The primary purpose of a warehouse facility is to provide ample space for businesses to store inventory, pack, label, and ship goods. For growing eCommerce businesses, the leading warehousing facilities in India present a cost-effective solution for managing their inventory. By delegating inventory management to these facilities, businesses can focus on their core operations and remain productive and efficient.
Top 5 Facilities That Should Be in an Ideal Warehouse
Here is a check-list of the top 5 facilities in an ideal warehouse that can ensure efficiency, safety, and cost-effectiveness:
1. Loading Docks
These are dedicated spaces for trucks to load or unload goods. They are equipped with various tools, such as dock levellers and bridging platforms, that facilitate the smooth transfer of goods between the truck and the dock.
2. Racking Systems
These are needed for vertical storage and optimising inventory holding.
3. Lighting and Climate Control
Having good lighting and climate control is very important for any warehouse facility. Proper lighting helps workers see and work safely, while climate control helps maintain the right temperature and humidity levels to protect the goods stored inside from damage.
4. Security
It plays a vital role in safeguarding both the goods and workers inside the premises. To ensure maximum protection, a strong security system should be put in place. This system should include video surveillance, alarms, and advanced security features such as access control systems.
5. Amenities
The warehouse should include all modern equipment to ease inventory movement. This includes optimisation of the layout design for efficiency and communication with the latest tools and technologies.

Functions of Warehouse Facilities
Warehouse facilities are more than inventory storage spaces. They offer a range of other services, such as:
Inventory Control
It is an essential function for any warehouse facility. It ensures accurate locating and tracking of stored goods, as well as maintaining the right quantity of inventory. Proper labelling also enables quick retrieval, and analysing prices and product demand helps manage stock efficiently.
Transportation
Some warehouse facilities may offer to move goods for eCommerce businesses that need transportation services. This avoids outsourcing distribution, and businesses can easily track the movement of goods.
Transloading
Transloading is another critical feature that allows the efficient movement of goods between multiple transportation modes. Warehouse facilities should be equipped to meet the specific needs of the client, from the warehouse to local distribution centers.
Risk aversion
Safe and secure warehouse facilities prevent the risk of storing goods in basements and spare rooms, as usually done by businesses. Technology-backed tools in warehouse facilities ensure easy tracking of warehouse storage, so businesses can have peace of mind knowing their inventory is safe. Additionally, insurance coverage against burglary and theft provides an extra layer of protection.
Warehouse contracting
For businesses that want alternative solutions to self-operated warehouse facilities, a contract warehouse helps meet distribution needs and remain competitive. Contract warehouses offer flexible storage options, handling of goods, transportation, and distribution services, tailored to the specific needs of their clients.
Top 4 Benefits of Efficient Warehouse Facilities
The benefits of using an efficient warehouse are
Cost-savings: An efficient warehouse facility helps businesses save money by optimising storage spaces, minimising overstocking, and reducing inventory. Streamlined processes also lower labour costs and the time it takes to move merchandise in and out of the warehouse.
Customer service enhancement: Warehouse facilities help businesses stay ahead of delivery timelines. They also ensure optimised supply chain operations and lower the risk of overstock and delays. This leads to improved customer satisfaction and helps sustain long-term customer relationships.

Increased productivity: The advantage of an efficient warehouse is that processes are streamlined to lower downtime and increase productivity. By evaluating workflows and reducing the time taken to perform tasks, businesses can handle more orders and improve overall productivity.

Competitive advantage: An efficient warehouse gives businesses a competitive edge by enabling them to respond quickly to market situations and meet customer demands as they arise. By optimising supply chain operations and reducing costs, businesses can stay competitive in highly competitive marketplaces.
Industry Solutions for Efficient Warehouse Facilities
Service providers like Shiprocket offer partnership programs that eCommerce businesses leverage to optimise their logistics and supply chain.
Efficient warehouse facilities are critical for eCommerce businesses to succeed in a competitive market. By optimising inventory management, transportation, and order fulfillment processes, companies can save costs, enhance customer service, increase productivity, and gain a competitive advantage. The advantages of Shiprocket's warehouse facilities include:
Strategic Locations: Shiprocket's warehouses are strategically located near industrial areas, close to manufacturers' and suppliers' facilities. It continues to add more to its current 45+ warehouses across India.
Ship Smarter: Shiprocket's proprietary inventory management platform gives businesses a competitive edge since overheads are minimised. Their efficiently structured facilities are well-managed for quick in-and-out of transport vehicles with the necessary equipment for safe and damage-free loading and unloading.
Customised services: Shiprocket provides customised services for inventory-based businesses. Companies have the flexibility to scale their inventories to match customer demand.
Fast shipping tags: Shiprocket offers end-to-end support to eCommerce businesses, including transportation, warehousing, and order fulfillment. Shiprocket also offers businesses the facility to provide badges or tags that indicate fast shipping. For example, Amazon's Prime shipping tag reassures customers that they will receive orders on time. Shiprocket enables businesses to offer customers fast-shipping tags at checkout, leading to higher customer conversion rates.
Conclusion
Warehouse facilities are a crucial link in the eCommerce supply chain. An efficient warehouse facility is essential to ensuring the timely delivery of goods at the lowest possible cost. A suitable warehouse facility can optimise inventory management, improve customer satisfaction, and increase productivity. Partnering with service providers like Shiprocket can offer businesses a comprehensive solution to their logistics and supply chain needs, enabling them to focus on growth and profitability.
Contact our experts now to learn more about Shiprocket's warehouse facilities for eCommerce.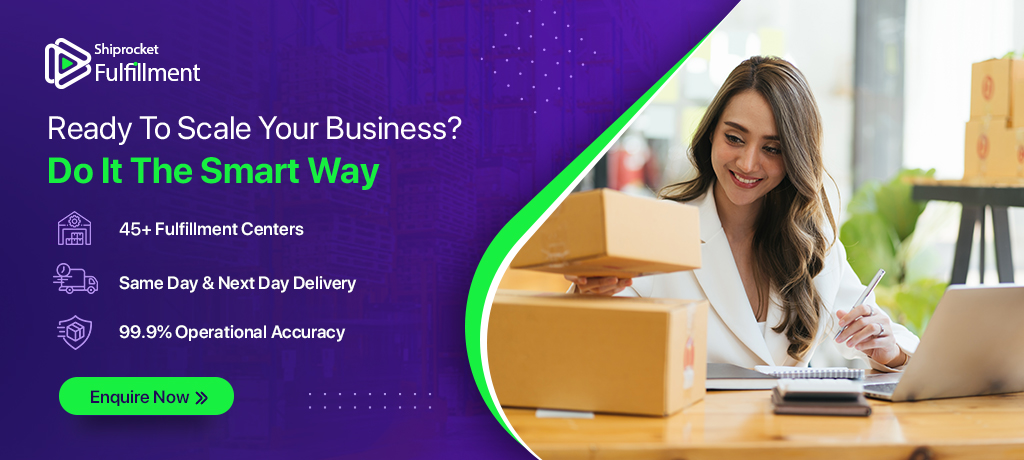 Frequently Asked Questions(FAQs)
What are the warehouse facilities that businesses should consider for a partnership?
The most common warehouse facilities that businesses can partner with, are fulfillment services, cold storage facilities, distribution centers, and eCommerce warehouses.
What factors should businesses consider to create efficiency in warehouse facilities?
To make warehouses efficient, businesses should focus on automation, non-excess inventory, minimal waste, and optimised workflows.
What are the biggest challenges faced by warehouse facilities?
The biggest challenges warehouses face are labour shortages and increasing operational costs.