Amazon Fulfillment Center: Guide to Fast & Profitable Shipping
Amazon fulfillment centers have helped numerous sellers streamline their storage, packing and shipping processes. The facility is available to those who use the Fulfillment By Amazon (FBA) programme. Amazon fulfillment centers are well-designed Amazon warehouses that safely store incoming goods in a systematic way and ship them to customers in a timely manner. If you are a seller planning to use the Amazon fulfillment center facility, then this is a must-read for you. You will get detailed information on Amazon fulfillment centers, including their benefits and policies.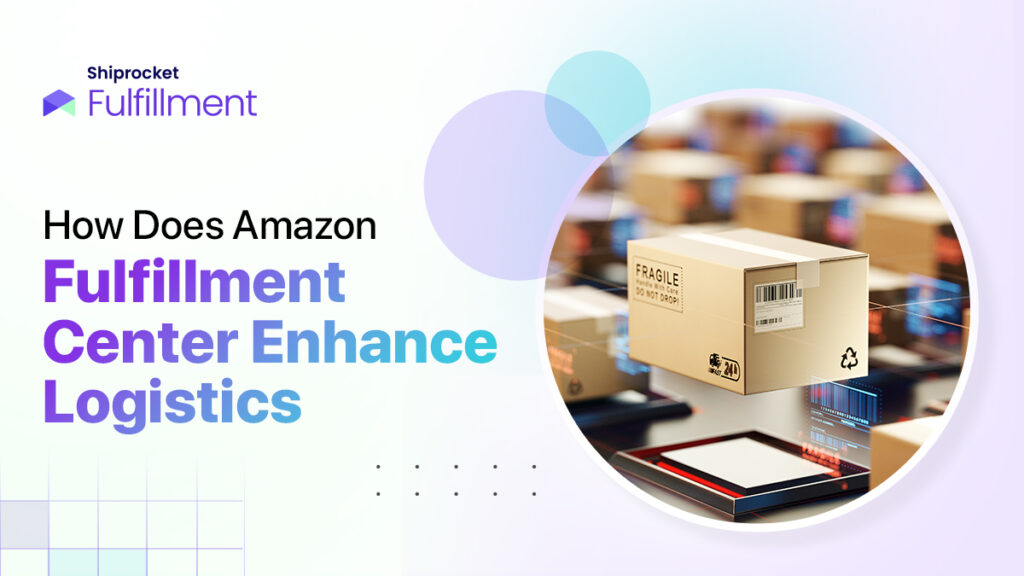 What is Amazon Fulfillment Center?
Amazon fulfillment centers are exclusive warehouses made available by the eCommerce giant. There are more than 175 Amazon fulfillment centers around the world. These facilities boast impeccable infrastructure and use advanced technology to store, manage, pack and ship the orders. They are meant to make life easier for FBA sellers and have become an integral part of many organisations' supply chains.
The inventory of these sellers is stored in the Amazon warehouses in an organised manner. Whenever an order for products is received on Amazon, the workers at the Amazon fulfillment center pack those goods in adherence to Amazon standards. The orders are then immediately shipped to the customers to ensure they reach them on time. Amazon also takes responsibility for post-purchase issues for FBA sellers. This includes providing complete customer support and managing returns and replacements. All these tasks are carried out in an efficient manner to ensure customer satisfaction.
The Critical Role of the AFC for Sellers
Amazon fulfillment centers play a crucial role in a seller's business. Here are the many responsibilities that FBA sellers are relieved of as they use this service:
Managing Inventory
Receiving, storing and managing inventory can be a humungous task. It takes a lot of time and effort, but not for FBA sellers. All their products procured from different suppliers are sent to the Amazon fulfillment centers, where the inventory is thoroughly checked. They are then sorted and stored category-wise for easy retrieval. Advanced systems are put into place to track the inventory quickly and conveniently.
Picking and Packing
Whenever an order is placed, the workers at the warehouse locate the products and pass them to the next step, which is packing. The items are carefully packed as per Amazon standards.
Labelling and Shipping
The packages are labelled properly and placed section-wise depending on their shipping destinations. Thereafter, they are transported, ensuring timely delivery to the given addresses.
Returns
FBA sellers do not have to worry about product returns. The returned items are picked up by the workers at the Amazon fulfillment centers after thorough inspection to ensure they are in good condition. Depending on their condition, these products are either restocked for resale or disposed of.
Benefits of Using the AFC
Here are the various benefits of using Amazon fulfillment centers:
Trust Factor
Amazon is a brand name trusted by consumers around the world. Sellers can build trust factor in the market by choosing AFCs for their storage and delivery needs.
Amazon Prime Eligibility
The products of FBA sellers are eligible for Amazon Prime's free shipping and fast delivery. This enhances the chances of cracking more sales.
Customer Support
There is no need to maintain a team of customer service agents when you choose to become an FBA seller. The company provides complete customer support service. It has a team of expert customer service staff who take care of queries and complaints.
Efficient Storage Space Management
FBA sellers get ample storage space, which is efficiently managed. You even get the option to lower your storage space to cut down on its cost during the off-season.
How Can Sellers Leverage the AFC?
FBA sellers can make use of the Amazon facility center services to achieve the following goals:
Grow your Business
You can leverage AFCs to grow your business. With this facility, you don't need to worry about storing and maintaining inventory. You can increase the inventory whenever your sales go up.
Specialisation
The workers at Amazon fulfillment centers specialise in inventory management. They make use of the latest technology to organise, maintain, pack and ship the products. Moreover, they train their customer support staff to handle customer queries and complaints efficiently. You can leverage their knowledge and efficiency to increase customer satisfaction and boost sales.
Sales Expansion
Amazon has a wide network of fulfillment centers that facilitates timely deliveries across the country and even outside. You can use this widespread network to widen your reach and increase your customer base.
Keep Track of Your Inventory
You can monitor your inventory and manage it better using Amazon's high-tech tools. You can utilise this facility to avoid running out of stock and maintain your sales momentum.
Set Competitive Rates
Amazon Prime offers benefits such as free shipping that help cut down on your overall cost. So, you can provide products at competitive rates to attract more customers and boost sales.
The Power of Using the AFC for Sales and Customer Satisfaction
Amazon fulfillment centers have brought about a revolution in the way eCommerce businesses operate. They have become an integral part of many businesses. The AFCs are playing an instrumental role in enhancing customer satisfaction and business in the following ways:
They offer efficiency at every step of the sales and delivery process
Being a brand name, Amazon helps sellers establish trust among their consumers.
The platform's easy return policy is one of the main reasons buyers do not hesitate to try products from new sellers. This helps in increasing the sales of the FBA seller.
AFCs provide ample storage space to accommodate the rising storage need of any business as it grows. Hence, you can increase your inventory without worrying about the storage space.
Amazon warehouses are located in different parts of the world to enable quick and convenient shipping. Timely deliveries help enhance customer satisfaction and increase sales further.
Amazon customer support proves to be of great help to the sellers. All the customer queries, complaints and post-purchase issues are handled with efficiency by the Amazon staff. Such services help sellers gain positive reviews about their products and build credibility in the market.
Conclusion
Amazon fulfillment centers have come as a boon for sellers across the globe. They have helped many start-ups kick-start their business and become profitable in much less time than anticipated. They have also helped businesses establish and grow exponentially. Sellers around the world are leveraging AFCs to increase customer base and satisfaction and build credibility. If you are still trying to manage inventory, packaging and shipment on your own, then you may be lagging behind. FBA sellers are doing well as they are getting all this done by experts in the field. Besides, Amazon also provides excellent customer support that enhances customer experience and helps drive sales.
What is the FBA fulfillment fee? Is there a fixed amount set for availing of this service?
FBA fulfillment fee varies depending on various factors. These include the weight of the shipment, the number of units to be shipped and the dimensions of the package, etc.
What is the procedure for shipping inventory to an Amazon fulfillment center?
Amazon will designate a fulfillment center for you depending on your location, preference and certain other factors. You need to select a shipping plan, pack your items carefully and ship them thereafter to the warehouse allowed.
How to avail the facility of Amazon fulfillment center?
In order to avail of the facility of Amazon fulfillment center, you have to create an Amazon seller account to start with. Next, list your products on your account. Thereafter, sign up for Amazon FBA, select your preferred AFC and ship your products to that center.